L'incertitude des analyses de risques de mouvements du terrain
Ground movements induced by underground cavities or rock slopes may lead to tragic consequences. Risk management has become a strong demand from concerned population and is one of the priorities of public authorities. Risk management is primarily based on the identification and assessment of hazard: predicting the nature of the phenomena likely to occur, anticipating hazards likely to affect people and infrastructures can be exposed, scheduling the implementation of risk scenarios. Based on a thesis completed in INERIS by Maxime Cauvin, in partnership with LAEGO ("Taking into account uncertainties and probability calculations in ground and underground risk studies", December 20, 2007), a systemic analysis of uncertainties in risk analysis of ground movement was carried out. It enabled to establish a typology of uncertainties that fits "ground movements" risk analyses specificity. Moreover, tools were developed in order to fill identified scientific gaps: l a confidence index to characterize the confidence of the expert in a context of missing input data based on their nature and quality; l a methodology for comparing the weight of the uncertainty of input data and models on the result. This enables a more effective way of deciding where extra resources should be allocated (on field investigations, numerical modeling enhancements…).
Effondrements, glissements de terrain, chutes de blocs… Face aux conséquences dramatiques que peuvent avoir certains mouvements de terrain engendrés par les objets rocheux, la gestion des risques est devenue une demande for te des populations concernées et constitue l'une des priorités de travail des pouvoirs publics. La gestion des risques s'appuie d'abord sur leur identification et leur évaluation : prévoir la nature des phénomènes susceptibles de se réaliser, anticiper les dangers auxquels les populations et les infrastructures peuvent être exposées, évaluer l'échéance de la réalisation des scénarios de risques. Telles sont les questions auxquelles l'expert doit apporter des éléments de réponse. Il s'agit donc pour l'expert de formuler des avis sur le futur, le probable, afin que le décideur établisse des choix dans le présent. L'expertise a pour objet d'établir un diagnostic d'une situation donnée afi n d'identifier ses évolutions futures. La notion d'incer titude apparaît donc sur deux plans : la capacité d'établir un diagnostic précis d'une situation donnée ; et la capacité d'établir des scénarios d'évolution pertinents. Les cavités souterraines (naturelles ou anthropiques) et les fronts rocheux à l'origine d'éventuels mouvements de terrain sont des milieux caractérisés par une grande variabilité. Par conséquent, les connaissances disponibles sur la source potentielle de danger sont limitées. Dans le cadre d'un travail de thèse mené à l'INERIS par Maxime Cauvin, en partenariat avec le LAEGO [1], une analyse systémique des incertitudes propres aux analyses du risque de mouvement de terrain a été réalisée. Elle a permis de proposer des outils là où les carences techniques les plus fortes ont été identifiées.
Fichier principal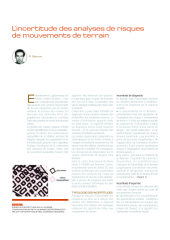 2010-476.pdf (116.12 Ko)
Télécharger le fichier
Origin : Publication funded by an institution