Transport du CO2 par canalisation : évaluations des risques
Nowadays, the CCS chain (carbon capture and storage) is considered as an interesting solution to fight the global warming by reducing CO2 concentrations in the atmosphere. However, in case of massive accidental leak of CO2, which can be mixed with toxic impurities (NOx, SOx…), this could lead to toxic effects in humans located in the nearby environment. Between capture and storage, the pipeline transport is the part of the network the most vulnerable and the most difficult to protect. The development of a safe chain of CO2 then requires to develop risk assessment methods dedicated to CO2 transport by pipeline. This involves the production of new knowledge about the mechanisms of dense gas clouds dispersion, multiphase flows, and sudden process of relaxation of supercritical fluids. For this, several experiments are currently carried out at INERIS. Firstly, a thermodynamic set-up was built in order to determine the thermo-physical and thermodynamics data required for the formulation of the phase equilibrium model. Secondly, a mid-scale set-up allows to get the fluid flow pattern maps required for the formulation of the heterogeneous discharge model, the near-field particle size distribution and velocity profiles. Further tests on a larger scale are planned to check that the current results and models could be extrapolated to massive releases of CO2. Some calculations carried out with dispersion softwares seem to provide different results in terms of hazardous distances for instantaneous or continuous releases. A focus on the models used by the softwares appears necessary to get a better understanding of this difference in the risk assessment context.
Les projets France Nord (Ademe) et CO2PipeHaz (Commission européenne) sont focalisés sur la compréhension des mécanismes physiques mis en jeu lors d'un rejet de CO2 dans l'atmosphère, lors du transport de CO2. Les risques liés au transport sont ciblés spécifiquement car les réseaux sont plus vulnérables et plus difficiles à protéger que d'autres éléments de la chaîne. Or, à l'occasion d'une fuite accidentelle, on craint la formation d'un nuage dense de CO2 qui maintiendrait au niveau du sol les polluants, éventuellement toxiques, véhiculés par le CO2 (SO2, H2S, NOx…). Dans ce cadre, des connaissances sont recherchées, en particulier, sur les mécanismes de formation des nuages gazeux très denses, multiphasiques et sur les processus de détente brutale des fluides supercritiques, sujet pour lesquels il n'est pas certain que les outils de modélisation disponibles soient pertinents dans le cas de création de neige carbonique lors de la détente. Ces scénarios de fuite sont donc étudiés par l'INERIS pour produire des connaissances et des outils de base qui contribuent à une meilleure maîtrise des risques des installations de transport de CO2.
Fichier principal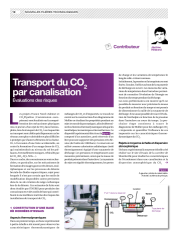 2011-507.pdf (421.97 Ko)
Télécharger le fichier
Origin : Publication funded by an institution