La peroxydation de l'éther éthylique : étude théorique et expérimentale
Numerous organic compounds spontaneously decompose, by reaction of a free-radical of the carbon chain with molecular oxygen, in a self-propagating process of auto-oxidation, which may generate a large variety of peroxide molecules. Many laboratory accidents can be ascribed to the presence of such peroxides in chemicals storage, often under poor conditions, for over-long periods. Ethers are typical solvents showing such a behavior. However, few works are focused on the mechanistic study of their reaction of oxidation. This work, carried out within the INERIS research project named RIPER (for "study of RIsk linked to the PERoxidation of chemical products"), presents the results of an in-depth theoretical study based on DFT calculations, aiming to identify all the reaction paths (and products) involved in the diethyl ether oxidation process (at ambient temperature and under conditions that reflect normal storage conditions). DFT calculations indicate that this mechanism follows a classical scheme of chain initiation, chain propagation, and chain branching and termination. Different competitions have been identified between several chain branching pathways (such as hydroperoxides decomposition and isomerization pathways). They also indicate that industrial hazards could be related to hydroperoxide accumulation due to the relatively high activation barrier to further decomposition. Coupled with experimental work aiming to measure the amount of experimental products (such as acetaldehyde, acetic acid and organic peroxides) during accelerated oxidation of DEE at various temperatures, all energetic parameters calculated in this theoretical work will be used to develop a detailed chemical kinetic model of the oxidation process of DEE.
De nombreux produits chimiques organiques peuvent devenir instables lorsqu'ils sont stockés de manière inadéquate ou durant de longues périodes au contact de l'air. Ces produits réagissent avec l'oxygène par un processus radicalaire d'auto-oxydation (peroxydation) pour former des espèces chimiques peroxydées (des hydroperoxydes et/ou des peroxydes). Au bout d'un certain temps, lorsque certains de ces composés peroxydés se sont accumulés audelà d'un seuil limite, ils peuvent devenir sensibles au choc, se décomposer de manière très exothermique, voire s'auto-polymériser formant alors des polyperoxydes particulièrement instables. Ces phénomènes, à l'origine de nombreux accidents dans l'industrie, notamment dans les laboratoires, restent encore mal connus car la présence d'espèces radicalaires, de plusieurs (dizaines) chemins réactionnels, rend la caractérisation expérimentale du mécanisme réactionnel de peroxydation très difficile. Aujourd'hui, pour lutter contre les risques liés à ce type de vieillissement, les industriels limitent le temps de stockage et/ou introduisent des inhibiteurs chimiques (hydroquinone, BHT…) pour augmenter la durée de stockage. Cependant, ces inhibiteurs sont consommés pour empêcher le processus d'oxydation et lorsqu'ils le sont entièrement, on peut alors observer une accumulation rapide de peroxydes potentiellement très instables. Les composés oxygénés tels que les éthers comptent parmi les groupements chimiques les plus susceptibles d'être à l'origine de la formation de peroxydes. Néanmoins, très peu d'études théoriques (et expérimentales) détaillées ont été réalisées sur la compréhension du processus d'oxydation des éthers dans la littérature. Mis à part l'éther diméthylique (DME), peu de travaux expérimentaux existent concernant l'oxydation des autres éthers souvent utilisés comme additifs dans les carburants et biocarburants : l'éther éthylique (DEE ), l'éther di-isopropylique (DIPE) ou le méthyl tertbutyl éther (MTBE). Aussi, dans le cadre du programme de recherche RIPER (Étude des risques liés à la peroxydation des produits chimiques, 2008-2011), l'INERIS a mené une étude théorique approfondie basée sur des calculs de chimie quantique visant à identifier les produits et chemins réactionnels impliqués dans le processus de peroxydation de l'éther éthylique (à température ambiante pour refléter les conditions de stockage).
Fichier principal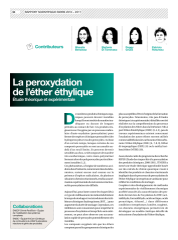 2011-515.pdf (393.15 Ko)
Télécharger le fichier
Origin : Publication funded by an institution