INERIS : acteur européen dans la sécurité des nanotechnologies
Nanoparticles are synonymous of properties and functionalities that are very different from those of bulk materials. These nano-objects are coming today to a status of industrial commercialization, by which they can REACH all industrial sectors (cosmetics, plastics, concretes, alloys…), because new composites based on these nanoobjects can display exceptional electrical, mechanical, chemical or optical properties. Since 2005, the EU has encouraged member states to develop their competences and skills in these new materials, so as to be able to produce and commercialize them in a safe way. INERIS has successfully taken this opportunity, by responding to these calls and by collaborating with EU partners in various EU projects by offering its unique competences and skills in management of environmental and industrial risks, considered as key factors in the development of these technologies.
Le plan national Nano-Innov, lancé en 2009, a consisté à structurer la recherche dans les nanotechnologies tout en s'efforçant d'assurer la sécurité des installations, des opérateurs ainsi que celle des produits manufacturés. Dans son sillage, le développement d'une métrologie spécifique des nano-objets est apparu comme préalable à toute étude de sécurité, d'analyse de risques et des recommandations qui en émanaient. Par le terme métrologie, on entend non seulement les moyens de mesure de la taille, de la concentration en particules à une taille donnée, de la signature chimique en volume et en surface, mais aussi des moyens de mesure des caractéristiques chimiques, réactionnelles, thermiques, électrostatiques qui sont susceptibles de générer un danger. Une fois ces particules caractérisées, des études plus spécifiques des effets toxicologiques et écotoxicologiques ou accidentels peuvent alors être menées. Ainsi, l'INERIS s'est engagé très tôt, via des projets nationaux et européens, dans les domaines de la détection et caractérisation, de l'expologie, des effets toxiques et écotoxiques, de l'incendie et de l'explosion, de la sécurité des procédés et de celle du travailleur et, récemment, dans le domaine des études socioéconomiques. Par la suite, ces contributions seront détaillées en précisant le ou les projets européens auxquels ils se rapportent.
Fichier principal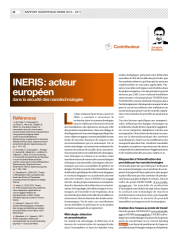 2011-517.pdf (156.86 Ko)
Télécharger le fichier
Origin : Publication funded by an institution