Biomarqueurs, vers leur utilisation pour la surveillance des milieux aquatiques
Since 2000, the ecotoxicological unit of INERIS develops several biomarkers in various freshwater and marine fish species. These tools are described as relevant parameters to assess the effects of aquatic ecosystems in wild fish species and could be used in regulatory environmental monitoring activities. However, due to increase knowledge on fish physiology and mechanisms of action of pollutants, it is relevant to develop new biomarkers to assess specific effects of environmental pollution such as androgenic endocrine disruption or to obtain new data on biomarker responses and associated predictivity. Biomarkers are research tools weakly applied in regulatory monitoring programmes. As highlighted by the French workshop on development and validation of biomarkers and bioassays for environmental monitoring, the lack of biomarker validation and difficulties for data analysis are major gaps for further large applications. To bridge these gaps, collaborative research activities will be performed at national and European level by AQUAREF and NORMAN network respectively.
Depuis 2000, l'unité d'écotoxicologie de l'INERIS s'est fortement investie dans le développement et la validation d'un ensemble de biomarqueurs chez différentes espèces de poissons dulçaquicoles (épinoche, chabot, chevaine, gardon, goujon) mais également estuariennes et/ou marines (flet, bar, tilapia). Ces paramètres biologiques, spécifiques de mécanismes d'action des contaminants (e.g. induction de stress oxydant, neurotoxicité) ou de perturbations de fonctions physiologiques centrales chez le poisson (e.g. reproduction, immunité), permettent d'évaluer les effets globaux de la contamination des milieux aquatiques, tout en considérant la biodisponibilité des molécules, leur métabolisation, leur toxicité ainsi que la susceptibilité des organismes. Ils sont ainsi considérés comme complémentaires aux approches chimiques et biocénotiques (indices poissons par exemple) conventionnellement mises en oeuvre pour la surveillance des masses d'eau.
Fichier principal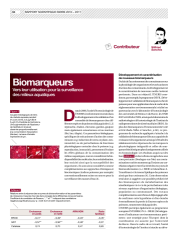 2011-525.pdf (124.13 Ko)
Télécharger le fichier
Origin : Publication funded by an institution