Phénomènes naturels, prévenir les accidents majeurs
Interaction between natural (earthquake, flooding, lightning, storm, forest fire…) and technological hazards within industrial plants could have disastrous consequences on installations containing hazardous substances, electrical systems… In this context, INERIS has worked to improve Natech accidents knowledge and prevention in the framework of APSYRIS and INteg-Risk projects, with the Joint Research Center (JRC) and the University of Bologna as partners. The main results are as following: a detailed analysis of past Natech accidents, a model of dynamic equipment response to earthquake, a consolidated methodology combining a quantitative risk assessment approach (QRA) and the bow tie method for piping, atmospheric and pressurised vessels, recommendations for the establishment of an early warning system for industrial plants in flooding areas. Considering the recently growing importance of Natech aspects, INERIS must continue to provide its expertise. Behaviour to earthquake of specific equipments (valves, sensors, cables…), development of models to predict behaviour of equipments in case of flooding, analysis of power supply networks vulnerability, making emergency plans more robust in relation to Natech risk, taking into account several natural hazards occurring simultaneously (earthquake and flooding, drought and forest fires…)… could be the research direction followed by INERIS in the coming years.
Tempêtes, inondations, séismes, mouvements de terrain, foudre… sont des phénomènes naturels dont les conséquences peuvent être désastreuses pour les populations comme pour les acteurs de la vie économique. Les récents événements survenus en France ou à l'étranger, en 2010 (tempête Xynthia et inondations dans le Var) ou en 2011 (séisme et tsunami au Japon) en constituent la terrible démonstration. Compte tenu des évolutions liées au changement climatique et aux évolutions démographiques et économiques des pays potentiellement touchés, il est fort probable que ces catastrophes soient de plus en plus fréquentes et de plus en plus dévastatrices pour des sociétés dont l'aversion au risque est croissante. Pour les acteurs économiques impactés tels que les installations industrielles à risques, ces événements naturels peuvent être à l'origine d'accidents technologiques, aussi appelés accidents « Natech ». L'analyse des accidents passés en témoigne : dommages subis par la raffinerie de Tüpras en Turquie (séisme en août 1999), destructions occasionnées aux industries côtières et offshore du Golfe du Mexique (cyclone de Katrina, août 2005), inondation de sites industriels (France, septembre 2002), séisme de Wenchuan (Chine, mai 2008)… Ces événements Natech, peu connus et mal traités jusqu'à présent, ont la particularité d'être à la croisée de plusieurs disciplines (risques naturels, risques technologiques, génie civil…) et se caractérisent par d'importants dégâts simultanés sur les sites industriels, dans un environnement externe également très perturbé (difficulté d'accès, perte d'alimentation électrique générale…). Cette situation rend difficile la mise en oeuvre des barrières classiques de prévention, de limitation et d'intervention. L'INERIS a pris toute la mesure de cette problématique depuis déjà une dizaine d'années. C'est maintenant un acteur identifié pour cette thématique Natech, sur la scène nationale et européenne. Pour répondre aux questions posées quant à la gestion des Natech, en particulier ceux engendrés par un séisme ou une inondation, les réflexions engagées par l'INERIS, dans le cadre du programme APSYRIS et du projet européen iNteg-Risk, ont porté sur : • l'amélioration de nos connaissances sur les accidents Natech en exploitant le retour d'expérience, • la compréhension et la modélisation du comportement des structures industrielles soumises à un aléa sismique ; • le développement d'une méthode d'analyse du risque ; • la mise en place d'une méthode d'élaboration d'un système d'alerte pour les sites industriels en zone inondable.
Fichier principal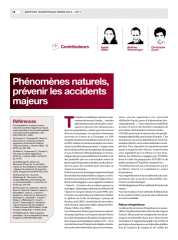 2011-530.pdf (291.45 Ko)
Télécharger le fichier
Origin : Publication funded by an institution