Bisphénol A et phtalates : contamination des prélèvements et exposition à l'hôpital
The ubiquitous use of phthalates and bisphenol A (BPA) in plastics, medical devices and food packaging materials results in a widespread general population exposure. The ELFE pilot study reports measurement of urinary concentration of phthalate metabolites and BPA in France and provides a first assessment of the exposure of French pregnant women to these compounds. The median concentrations of total and free BPA measured in urine were similar to those measured in previous studies except for the highest concentrations. These results allowed us to identify a contamination with BPA that occurred from medical devices with urine probes when monitoring at delivery. High concentrations of primary metabolite of DEHP (Di-ethyl-hexyl phthalate), compared to other European and American studies were also observed and a very recent exposure at the hospital probably due to perfusion materials was also suspected. All these information about contamination and recent exposure will have to be taken into account for large-scale biomonitoring studies.
Très couramment utilisés dans la fabrication de divers plastiques, le bisphénol A (BPA) ainsi que les phtalates sont largement répandus dans notre environnement. Le bisphénol A est un monomère utilisé plus particulièrement dans la fabrication des matières plastiques polycarbonates et des résines époxy ; il entre aussi dans la composition de diverses autres matières plastiques telles que le polychlorure de vinyle (PVC). Ces matériaux sont utilisés non seulement dans la fabrication de dispositifs médicaux, de disques compacts, mais également dans la fabrication des films alimentaires et de bouteilles destinées à contenir des boissons. Les phtalates font quant à eux partie d'une famille chimique essentiellement utilisée dans l'industrie pour rendre souple et flexible certains plastiques. Ils sont présents dans de nombreux produits de consommation, par exemple dans certains emballages de produits alimentaires, dans des médicaments et des cosmétiques, dans certains matériaux de construction, peintures, jouets pour enfants ou même équipements médicaux [A]. Ces composés, phtalates et BPA, ne sont pas chimiquement liés aux plastiques dans lesquels ils sont employés et peuvent être relargués directement par le plastique par simple migration.
Fichier principal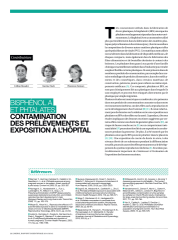 2012-509.pdf (140.38 Ko)
Télécharger le fichier
Origin : Publication funded by an institution