Risques technologiques majeurs et signaux faibles
The topic of "weak signals" in safety research is based on the idea that information about pending disasters exist in organisations beforehand. First Barry Turner, a sociologist, established the notion of "incubation period" in the 70's. According to his model, before an accident, some clues are potentially available but are mainly ignored by people of the organisation (a factory for instance). Twenty years later after Turner's sociological contribution, in the 90's, another sociologist, Diane Vaughan, developed this time the notion of weak signals. Weak signals are ambiguous and their direct link with safety cannot be asserted. They make sense for all only in retrospect. INERIS research maintains a strong interest in this concept as it can be used in both investigations following accidents and in the development of safety assessment methodologies including social sciences. INERIS launched a research in association with TU Delft, EDF R&D and financed by FonCSI in order to explore this topic. Between 2005 and 2011, a PhD student, Eve Guillaume, conducted a qualitative research in two industrial sites in France in order to understand how these organizations dealt with their weak signals. The thesis clarifies some definition issues in relation to weak signals and describes different layers of factors impeding information flows within companies.
En principe, tous les accidents récents peuvent être l'objet d'investigations qui explorent la piste du traitement des signaux par l'entreprise, comme l'explosion de la raffinerie BP à Texas City (2005), le crash de l'AF 447 (Rio-Paris, 2009), l'accident de la plateforme Deep Water Horizon (2010) ou encore la catastrophe nucléaire de Fukushima Daïchi (2011). Cette notion de signaux faibles fait partie des arrière-plans théoriques et méthodologiques de l'INERIS pour traiter, dans ses programmes de recherche, de l'investigation des accidents (a posteriori) à l'évaluation (a priori) des risques technologiques. Pour alimenter ces réflexions, l'INERIS avec le département R&D d'EDF, a ainsi participé à l'encadrement d'une thèse réalisée par Ève Guillaume (2011), en partenariat avec le laboratoire Safety Science Group de l'université technologique de Delft (Pays-Bas).
Fichier principal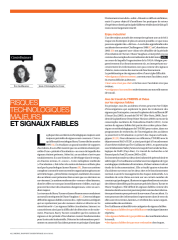 2012-514.pdf (131.68 Ko)
Télécharger le fichier
Origin : Publication funded by an institution