Vulnérabilité des réservoirs aux explosions et aux impacts
The occurrence of a chain reaction from blast on atmospheric storage tanks in oil and chemical facilities is difficult to predict. Current French practice for Seveso facilities assumes domino effects occur when the computed overpressure exceeds 200 mbar: a value determined from accident data. This could lead to conservative or dangerous assessments. To assess the validity of simple analytical models as design tools and to check the conformity of numerical simulations, small scale experimental studies were carried out to establish a benchmark. The first study presents blast test results performed on rigid instrumented cylinders to quantify the pressure space time loading distribution. A second study was performed on flexible cylinders at a reduced scale to quantify the structural response. Based on experience of the most recent accidents in France a simplified semianalytical model based on Donnell's equations and critical imperfection amplification thresholds was used to provide damage predictions. Numerical results show good agreement with the experimental data. Finally, reliable tools to predict atmospheric oil tank blast resistance have been developed. Some damage diagrams in the form of pressure impulse curves and safety recommendations for stakeholders are proposed to reduce domino effect risk.
L 'effet domino est inhérent à la sécurité et à la sûreté des sites industriels à risque. L'une des définitions peut être : « Action d'un phénomène dangereux affectant une ou plusieurs installations d'un établissement, qui pourrait déclencher un autre phénomène sur une installation ou un établissement voisin, conduisant à une aggravation générale des effets du premier phénomène. » - Arrêté du 29 septembre 2005. Historiquement, les plus grandes catastrophes industrielles ont été initiées par un événement primaire de faible ampleur qui s'est amplifié par réaction en chaîne, dite effet domino, jusqu'à atteindre des conséquences dramatiques pour l'homme d'une part, puis pour l'environnement naturel et industriel d'autre part. On recense de nombreux accidents dans le monde, dont les conséquences dévastatrices sont dues aux effets dominos faisant suite à une explosion initiale (Feyzin, La Mède, Buncefield, Texas City, Skikda, etc.). Ces accidents majeurs, associés à de nombreux autres événements tels que l'explosion de l'usine AZF, en 2001, ont conduit les législateurs européens et français à réviser le cadre réglementaire. En France, la loi du 30 juillet 2003, transposée sous la forme de l'arrêté du 29 septembre 2005, impose aux industries, soumises à autorisation, une évaluation quantifiée des risques en termes de probabilité, de cinétique, d'intensité et de gravité. Ainsi, un risque peut être évalué, maîtrisé et enfin accepté. L'analyse de risque doit prendre en compte, pour chaque équipement sensible, les agressions externes pouvant entraîner sa rupture et notamment l'onde de surpression externe. Ainsi, l'objectif du projet VULCAIN est de développer des outils simples et fiables pour l'analyse de la vulnérabilité des réservoirs aux explosions externes. L'étude comprend deux volets majeurs, une partie de modélisation théorique et une partie expérimentale à échelle réduite.
Fichier principal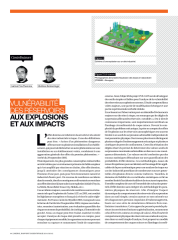 2012-515.pdf (144.39 Ko)
Télécharger le fichier
Origin : Publication funded by an institution