Évolution de la qualité de l'air en europe sur dix ans : première évaluation multimodèle
In order to assess the efficiency of air quality mitigation measures, an investigation of the decadal evolution of air quality over Europe was performed in the framework of the European research project CityZen. Significant downward trends of anthropogenic emissions were reported over the past decade, and these efforts lead to a decrease of NO2 levels observed at background sites throughout Europe. On the contrary, the ozone trend is insignificant or increasing at most sites (as a result of less efficient NOx titration). To identify the factors influencing this trend, INERIS coordinated an ambitious decadal numerical experiment involving six modelling teams implementing a variety of state-of-the-art models. The models were found to capture well the decreasing trend of NO2 on average over Europe despite degraded performances in selected countries attributed to shortcomings in the emission inventories. A complementary experiment using constant emissions over the past decade demonstrated that the lack of significant ozone trend can be largely attributed to the large interannual variability that exceeds the trend that would be attributed to mitigation measures.
Dans une logique d'appui aux décideurs dans l'évaluation de l'efficacité des politiques environnementales, l'INERIS s'intéresse aux tendances historiques de la qualité de l'air. Par la mise en oeuvre d'objectifs ambitieux de réduction des émissions de polluants anthropiques, celles-ci ont baissé significativement depuis vingt ans. Il est donc légitime de chercher à quantifier l'efficacité de telles réductions en termes de réduction des concentrations atmosphériques de polluants et de l'exposition des populations. À l'échelle de l'Europe, les émissions d'oxydes d'azote (NOx) issues d'activités humaines ont été presque divisées par deux depuis 1990 [B]. L'exposition aux effets néfastes du NO2 pour la santé a donc été réduite, mais paradoxalement, l'impact sur les polluants secondaires tels que l'ozone est moins clair. Le principal facteur limitant l'efficacité des mesures de gestion de la qualité de l'air est la variabilité météorologique. Les niveaux de pollution observés pendant une année donnée dépendent des substances émises (soit les polluants ciblés, soit leurs précurseurs), mais aussi de la météorologie correspondante qui peut faciliter - ou non - l'occurrence d'épisodes de pollution intenses. La variabilité météorologique interannuelle masque la réelle tendance à long terme, qui peut être attribuée aux mesures de gestion.
Fichier principal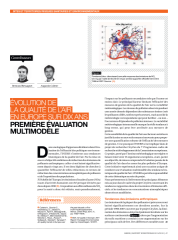 2012-516.pdf (219.7 Ko)
Télécharger le fichier
Origin : Publication funded by an institution