Utilisation des biomarqueurs pour la surveillance des rejets industriels : cas des effluents de l'industrie pharmaceutique
Biomarkers are described as relevant parameters to assess the effects of aquatic ecosystems in wild fish species and could be used in environmental monitoring activities. In the present study, a set of biochemical and histological indicators was measured in wild gudgeon collected upstream and downstream of urban and pharmaceutical manufacture effluents. These individual end-points were associated to fish assemblage characterisation. Responses of these biomarkers revealed contamination of investigated stream by a mixture of pollutants. Fish from sampled sites downstream of the industrial effluent exhibited also strong signs of endocrine disruption including vitellogenin induction, intersex and male-biased sex-ratio. These individual effects were associated to a decrease of density and a lack of sensitive fish species. This evidence supports the hypothesis that pharmaceutical compounds discharged in stream are involved in recorded endocrine disruption effects and fish population disturbances and threaten disappearance of resident fish species. Overall, this study gives argument for the utilisation of an effect-based monitoring approach to assess impacts of pharmaceutical manufacture discharges on wild fish populations.
Les biomarqueurs peuvent se définir comme un paramètre mesurable au niveau infra-individuel dont l'altération révèle un risque pour les organismes, voire un risque de non-maintien des populations dans leur milieu. Il s'agit d'outils utilisables pour la surveillance de la qualité des milieux aquatiques, qui permettent d'intégrer les effets globaux des stress environnementaux sur les organismes, tout en considérant les interactions avec les facteurs biotiques et abiotiques. De nombreux travaux ont d'ailleurs mis en avant la pertinence du déploiement des biomarqueurs dans le cadre des programmes de surveillance de la directivecadre sur l'eau (DCE, 2000/60/CE) pour contribuer à l'atteinte du bon état des masses d'eau. Ces indicateurs biologiques restent toutefois peu utilisés dans un contexte réglementaire. De récents travaux menés par l'INERIS, en collaboration avec l'Office national de l'eau et des milieux aquatiques (ONEMA) et le laboratoire Interaction animal environnement de l'université de Reims (IEA), ont mis en lumière l'intérêt de ces outils dans le cadre d'un contentieux environnemental lié à un rejet industriel.
Fichier principal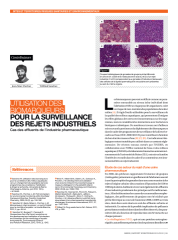 2012-520.pdf (152.19 Ko)
Télécharger le fichier
Origin : Publication funded by an institution