Évaluation de l'aléa mouvement de terrain lié aux processus naturels de dissolution des roches
The Tussion Wood, close to Paris is affected by regular sinkholes development due to gypsum dissolution. The insufficient knowledge concerning formation and evolution of these natural origin sinkholes makes it difficult to apply suitable protective solutions for inhabitants safety. In order to develop this knowledge, INERIS has performed a hydrogeological and geotechnical studies of this area. They aim to evaluate the "ground movement" risk. As these are evolutive phenomena, it is necessary to have extensive knowledge on the hydrogeological functioning of the site, the underground water flows being at the origin of the dissolution.
L'impact en surface du développement de cavités de dissolution dans des couches de gypse peut s'avérer très important pour les infrastructures. En France, la région parisienne est fortement impactée par ces phénomènes de dissolution liés au gypse présent dans les terrains d'âges bartonien et lutétien. Le fonctionnement hydrogéologique y est très complexe, caractérisé par plusieurs aquifères superposés, intervenant dans le processus de dissolution. La Direction des risques du sol et du sous-sol (DRS) mène depuis plusieurs années des travaux de recherche sur la dissolution des horizons géologiques solubles. L'un des objectifs de ces travaux est d'améliorer l'évaluation des risques de mouvement de terrain liés à ce type de mécanisme. Cette étude, réalisée en collaboration avec le département de Seine-Saint- Denis, a permis d'étudier dans le détail les mécanismes moteurs du processus de dissolution dans un contexte typique du Bassin parisien et de développer une méthodologie adaptée à l'évaluation de l'aléa mouvement de terrain dans ce type d'environnement.
Fichier principal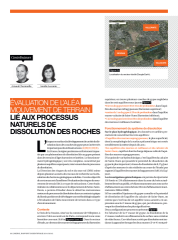 2012-522.pdf (239.85 Ko)
Télécharger le fichier
Origin : Publication funded by an institution