Évaluation de la stabilité thermique et danger d'incendie des méthoxydes de sodium et de potassium
Sodium and potassium methoxides are used as an intermediary for a variety of products in several industrial applications. Current production of so called "1G-biodiesel" processes implies the use of methanol, caustic potash (KOH), and caustic soda (NaOH) for which the hazards are well characterized. The more recent introduction of the direct catalysts CH3OK and CH3ONa may potentially introduce new process hazards. From an examination of existing MSDSs concerning these products, it appears that no consensus currently exists on their intrinsic hazardous properties. INERIS and the CERL (Canada) have embarked upon a joint effort to better characterize the thermal hazards associated with these catalysts. This work employs the more conventional tests for water reactivity as an ignition source, and fire and dust explosion hazards, using isothermal nano-calorimetry, isothermal basket tests, the Fire Propagation Apparatus and a standard 20 L sphere, respectively. It was found that these chemicals can become self-reactive close to room temperature under specific conditions and can generate explosible dusts.
Les méthoxydes de sodium et de potassium (formules chimiques CH3ONa et CH3OK) sont promus depuis le milieu des années 2000 comme catalyseurs pour la production de biodiesel à partir de sources lipidiques. Lorsqu'une catalyse homogène en milieu acide est retenue pour la réaction de base dans la formulation de biodiesel, les méthoxydes de sodium ou de potassium sont souvent préférés aux formes hydroxydes parentes, car ils permettent une amélioration du rendement de conversion des triglycérides tout en réduisant les coûts de purification du biodiesel. Des incidents survenus à la mise en oeuvre de ces produits, pour lesquels aucun retour d'expérience n'est formalisé, ainsi qu'une information relativement confuse, et parfois contradictoire, sur les dangers intrinsèques ont motivé la réalisation d'un programme exploratoire de caractérisation des dangers thermiques de ces produits. Ce travail s'est fait en collaboration avec le CERL d'Ottawa. Les produits techniquement purs se présentent sous la forme de poudres blanches, formes sur lesquelles le travail a principalement porté. Les formes liquides commercialisées (solutions concentrées de 25 à 30% dans du méthanol) ont également été examinées.
Fichier principal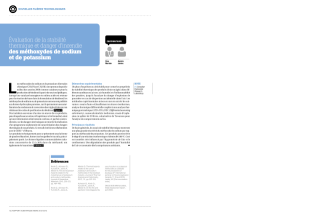 2013-485.pdf (320.72 Ko)
Télécharger le fichier
Origin : Publication funded by an institution