Génotoxicité et perturbation de la reproduction chez l'épinoche à trois épines
Many environmental pollutants are genotoxicants and can induce genetic damages in wild organisms. If genetic damage occurs in somatic cells, deleterious effects are restricted to the exposed organisms but when it affects germ cells, it may increase the risk of progeny defects as clearly pointed out in humans and aquatic species. Hence, identification of genetic risks related to environmental genotoxicants is a crucial point. In this context, INERIS and the UMR 5023 of the University of Lyon investigate the relationship between DNA damage of germ cells and progeny survival or development abnormalities. For this purpose, the threespined stickleback is used as model fish species. Ex vivo and in vivo experiments highlight that exposure to MMS, a model genotoxicant, affects significantly sperm DNA integrity and increases mortality during embryo-larval stages and abnormality rate at hatching. Field studies were also performed to address this relationship in wild sticklebacks but further studies are needed to confirm the ecological relevance of this hypothesis.
De nombreux polluants environnementaux peuvent altérer la structure de l'ADN ou les composants cellulaires assurant la transmission d'un génome fidèlement similaire. Malgré l'existence de systèmes de réparation des altérations génotoxiques, des mutations délétères peuvent survenir. Si des phénomènes de cancérisation sont observables au niveau individuel lorsque des cellules somatiques sont atteintes, des perturbations peuvent s'exprimer de façon transgénérationnelle lorsque c'est l'ADN des cellules germinales qui est altéré. L'existence d'une pression génotoxique pourrait alors être un élément explicatif des perturbations de la structure des peuplements piscicoles, voire du déclin de certaines espèces. Afin d'évaluer cette hypothèse, l'INERIS et l'UMR 5023 de l'Université de Lyon ont initié des travaux visant à évaluer le lien entre l'altération de l'ADN des cellules germinales et les perturbations de la descendance chez l'épinoche à trois épines, un poisson utilisé comme modèle à l'INERIS pour le développement des biomarqueurs. Des expérimentations basées sur des essais ex vivo sur des spermatozoïdes, des essais in vivo sur des épinoches exposées, en laboratoire, au méthanesulfonate de méthyl (MMS), un génotoxique de référence, et des essais in situ sur des poissons collectés dans différents cours d'eau ont été mises en oeuvre. Chacune de ces expérimentations a associé la mesure des dommages à l'ADN par le test des comètes et le suivi de la descendance obtenue par des fécondations in vitro.
Fichier principal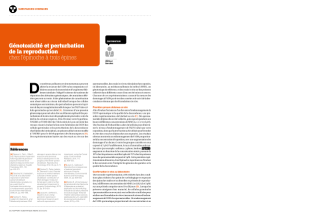 2013-492.pdf (252.84 Ko)
Télécharger le fichier
Origin : Publication funded by an institution