Développer des outils de métrologie innovants basés sur des diagnostics laser
The LIBS (Laser-Induced Breakdown Spectroscopy) technique has shown its potential in many fields of applications including that of aerosol analysis. The latter is usually carried out on the particle flow, thereby allowing quantitative detection in various experimental conditions such as ambient air analysis or exhaust stack monitoring. A possible alternative method for particle analysis has been experimented combining a low pressure RF (Radio Frequency) plasma discharge with the LIBS technique. Such approach has two peculiar features in comparison to usual LIBS analysis. First, the particles injected in the RF plasma discharge are trapped in levitation. Second, the analysis is performed at a reduced pressure (≈ 1mBar). The use of such particle trap could allow improving particle sampling, making organic particle analysis possible (by using an inert gas for RF plasma ignition) and even (depending on the pressure) obtaining a better signal to noise ratio. Detection of the elements nanoparticle agglomerates were made of following their injection in the RF discharge has demonstrated the feasibility of such approach. Future experiments are intended to explore its potentialities when tackling issues such as process control or ambient air monitoring.
Les nanotechnologies sont présentées comme l'industrie du XXIe siècle. Les matériaux nanostructurés sont le plus souvent élaborés à partir de briques élémentaires que sont les nanoparticules manufacturées. Cette nanostructuration confère à ces matériaux des propriétés inédites d'un très grand intérêt pour de nombreuses applications industrielles. La production de nanoparticules manufacturées est donc appelée à croître. Les besoins en nanométrologie (in situ et si possible en temps réel) devraient donc s'accroître en conséquence pour répondre à des problématiques de surveillance des ambiances de travail et de contrôle des procédés. Dans ce contexte, des travaux ont été engagés par l'INERIS dans le cadre du programme ANR NANOCARA (caractérisation globale en ligne des nanoparticules produites par des procédés en phase gazeuse). L'objectif de ce projet était de développer des outils de métrologie innovants basés sur des diagnostics laser.
Fichier principal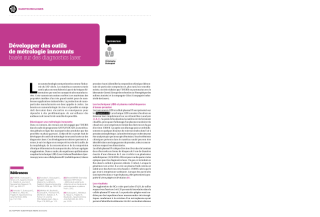 2013-495.pdf (296.56 Ko)
Télécharger le fichier
Origin : Publication funded by an institution