Les chambres d'émission, un outil innovant pour étudier les sources de particules
Mechanical sollicitations (scratching, drilling, sanding, etc.) are largely used in the professional and domestic fields, and can lead to inhalable aerosol particles release. To tackle this problem, especially for emerging areas as nanomaterial science, further information and data are required. Measurements can be taken on site, and studies can be carried out in the lab. For the latter, the emission chamber is a high performance tool that may be used under specific conditions. The operating principle of an emission chamber is very simple. Clean and particle free air is led through a conduit to the sealed chamber. The testing sample kept in this enclosed space is then stressed in various ways (using mechanical abrasion, etc.). The air is evacuated to particle analysers (size distribution, sampling for analysis by microscopy, etc.). Since 2007, this method has been applied successfully by INERIS to a large scale of fields (e.g buildings and automotive). Nanomaterials are considered e.g in the frame of the FP7 SANWORK project through abrasion tests on CNT and Polyamide fibers containing composites.
Nombre de produits qui nous entourent sont l'objet de sollicitations mécaniques (ponçage, perçage, découpe, friction, etc.) pouvant mener à l'émission de particules inhalables. Ceci vaut tout autant dans la vie professionnelle qu'au niveau domestique. La demande sociétale implique que ce risque soit pris en compte lors de la conception de ces produits, tout particulièrement dans un domaine en plein développement comme celui des nanomatériaux. Pour cela, il est nécessaire de s'appuyer sur des dispositifs expérimentaux à même de produire des données de manière économique, mais aussi spécifique, en distinguant bien cet aérosol des particules ambiantes.
Fichier principal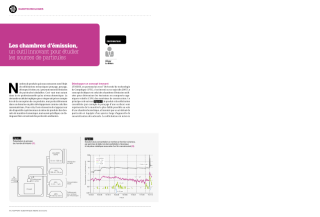 2013-499.pdf (274.25 Ko)
Télécharger le fichier
Origin : Publication funded by an institution