Effets d'une exposition chronique à des ondes radiofréquences sur l'équilibre énergétique chez des rats en développement
Main functions involved in body energy homeostasis (feeding, sleep and thermoregulation) were studied in rats chronically exposed to Radiofrequency electromagnetic fields (RF-EMF) (900 MHz, 1 V.m−1). Juvenile male Wistar rats (N=13) were exposed to continuous RF for 5 weeks at 24°C and compared with non-exposed animals (N=11). At the beginning of the 6th week of exposure, functions were recorded for 6 h, first at air temperature (Ta) of 24°C and then at 31°C. The frequency of rapid eye movement sleep episodes was greater in the exposed group, independently of Ta (+42.1% at 24°C and +31.6% at 31°C). Other effects of exposure were dependent on Ta. At 31°C, RF-EMF-exposed rats had a lower subcutaneous tail temperature (−1.2°C) than controls at all sleep stages; suggestion of peripheral vasoconstriction was confirmed with the vasodilatator prazosin. Daytime food intake was also increased (+0.2 g.h−1). RF-EMF modifies the vasomotor tone through peripheral - adrenoceptors. Vasoconstriction restricts body cooling, as energy intake increases. Exposure then induces energy-saving processes without strongly disturbing the sleep pattern.
Les effets d'une exposition continue aux radiofréquences sur les fonctions de l'équilibre énergétique du jeune rat ont été étudiés : le sommeil, la thermorégulation et la prise alimentaire. Le niveau d'exposition simulé dans l'étude correspond à celui rencontré à proximité des antennes-relais. Vingt-quatre rats mâles, âgés de 3 semaines, ont été acclimatés aux conditions de l'étude pendant trois semaines, puis ont été équipés de capteurs physiologiques.
Fichier principal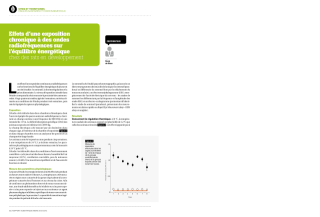 2013-502.pdf (253.36 Ko)
Télécharger le fichier
Origin : Publication funded by an institution