Quel retour d'expérience sur le retour d'expérience ?
The disasters of the past years in different high risk industries (e.g. aviation, offshore, nuclear) push for a moment of reflexivity about learning from accidents. In the aftermath of these events, one wonders whether learning from accidents remains a viable endeavour for companies and states or whether recurring technological disasters such as these seriously and definitely undermine any attempt to prove the feasibility of learning. Progress has certainly been made in the past, but apparently not enough so to be able to reach the highest safety levels, even in systems with dedicated resources. As a result of the current situation, some have been able to argue that 'we don't learn about disasters'. Although appealing and right, this is a very generic statement. There are many studies addressing aspects of learning from accidents which are in a position to bring insights about the drawbacks of learning. But this wealth of research is also part of the problem. When one wants to step back and to look broadly at the topic, to understand the reason why 'we don't learn', one is left with a fragmented scientific literature covering a very large spectrum of interests and views on the subject. This short paper tackles this problem by designing a framework to organise the diversity of studies.
Il existe depuis une dizaine d'années un sentiment de déjà-vu pour les observateurs des questions de sécurité industrielle. À la vague des grands accidents emblématiques et médiatisés des années 80 semble succéder celle des années 2000. Aux Tchernobyl, Bhopal, Piper Alpha, Challenger ou Zeebruges, il est possible aujourd'hui de substituer les accidents plus récents de Columbia, Toulouse, Texas City, Deep Water Horizon, Fukushima ou encore du Costa Concordia. Ainsi, cet air de déjà-vu tient à la proximité dans le temps de plusieurs événements majeurs dans des domaines à risques différents [A]. Mais alors, pourquoi n'apprend-on pas du passé ? Pourquoi le retour d'expérience ne permet-il pas d'éviter la répétition de ce type d'événements ? La difficulté d'apporter une réponse à cette question est liée en grande partie à la fragmentation des savoirs et des études réalisées dans le domaine du retour d'expérience. En effet, celui-ci peut être étudié selon une multitude de points de vue. Or, pour comprendre les difficultés et limites du retour d'expérience, il convient non seulement de multiplier les angles d'interprétation, mais aussi de les combiner.
Fichier principal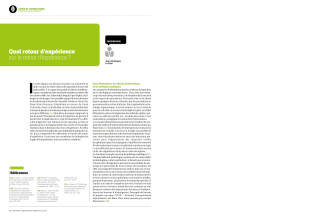 2013-507.pdf (159.44 Ko)
Télécharger le fichier
Origin : Publication funded by an institution