Outils numériques et géophysiques appliqués à la prédiction de la sismicité dans les mines profondes
Active and disused mine workings may, in some specific contexts induced seismic activity. Trying to understand and, even more, predict this kind of events appears to be very complex. INERIS developed a methodology based on coupling seismic analysis (monitoring) and numerical modelling. It enables to define the location of the tremors as well as the released induced stresses. This methodology appears to be efficient for detecting areas of coalmines prone to rockburst hazard as well as a powerful tool for assisting the planning of underground workings in complex geological and mining conditions.
La méthode de longue-taille foudroyée est une des méthodes employées au cours des dernières années dans l'exploitation des mines de charbon européennes. Cette méthode a permis d'augmenter sensiblement le rendement des travaux (panneaux de 200 m de large et plus de 1km de long). Les quartiers de mine sont formés de plusieurs panneaux, ces vastes surfaces exploitées induisant une redistribution du champ de contraintes initiales environnant. En présence de failles importantes situées à proximité des chantiers, les variations de contraintes sont susceptibles d'induire un « rejeu» de ces failles à l'origine des phénomènes dynamiques potentiellement ressentis par les occupants de la surface. Les mines profondes correspondant à des contextes géologiques et d'exploitation sont globalement favorables à ce type de phénomènes (profondeur supérieure à 1000 m, présence de failles, nombreux niveaux exploités, conditions géologiques complexes, etc.). En France, le développement d'outils de prévention et de suivi a été initié par l'INERIS pour assister Charbonnages de France dans la gestion de la sismicité induite durant l'exploitation, avant d'être poursuivi pour mieux comprendre et prévoir la survenue d'événements sismiques dans le contexte de mines profondes en Europe et dans le monde.
Fichier principal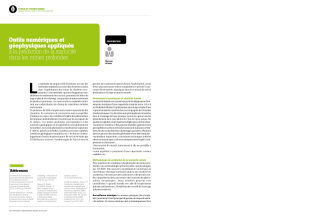 2013-510.pdf (141.4 Ko)
Télécharger le fichier
Origin : Publication funded by an institution