Synthèse des impacts potentiels d'une fuite de CO2 depuis un site de stockage géologique sur les processus géochimiques
The geological storage of CO2 in deep saline aquifers is one option to limit the emission of greenhouse gases into the atmosphere. In case of leakage of CO2 and/or brine, the impact on shallow freshwater aquifers must be investigated. The CO2 leakage will first dissolve into shallow groundwater until saturation to form carbonic acid. This will lower the pH by 1 to 3 unit(s) depending on whether the aquifer is carbonated (buffered) or siliceous. Another effect of this dissolution could be the remobilization of trace metals contained in the matrix rock or trapped by scavenging into the iron oxi-hydroxides. In case of brine leakage, a significant quality alteration of shallow groundwater can be noted. This is due to brine salt (> 100 g / l NaCl) and concentration in trace metals (Al, Fe, Mn, Pb, Zn, Cu, U) or organic compounds (supercritical CO2 being an organic solvent). Moreover, changes in the redox potential could also occur in case of leakage of deep anoxic brine or impure CO2 gas (O2, SOX, NOX, H2S). In conclusion, the expected impact is a compromise between many parameters: (i) the quality of the injected CO2, (ii) the kinetics of deep hydrogeochemical perturbations, (iii) the duration of the leakage towards the surface and (iv) the type of shallow aquifer encountered. To quantify this impact, it is necessary to have excellent network monitoring and a sufficiently long baseline to identify natural trace element range fluctuations.
Le stockage géologique de CO2 est généralement étudié en tant qu'option possible pour limiter l'émission de gaz à effet de serre dans l'atmosphère. À ce titre, les aquifères salins profonds (> 800 m), où le CO2 se dissout lentement dans la saumure, sont parmi les candidats pour ce type de stockage. En termes de risques, une question primordiale est de savoir ce qu'il adviendrait d'une éventuelle fuite de CO2 et/ou de saumure, notamment en ce qui concerne l'impact sur les aquifères superficiels d'eau douce.
Fichier principal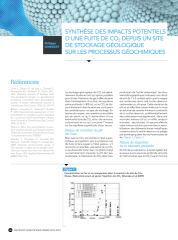 2014-459.pdf (145.68 Ko)
Télécharger le fichier
Origin : Publication funded by an institution