Prise en compte de l'évolution de l'état d'agglomération dans l'étude de l'écotoxicité des nanoparticules
When assessing the hazardous properties of nanomaterials for the environment, there are numerous significant research challenges. Among them, it appears necessary to study the effect of nanomaterials and nanoparticles throughout their life cycle including both initial forms and physico-chemically modified forms (i. e. aggregated or agglomerated forms) that may result from an ageing process. We addressed this question by focusing on the effect of commercial ceria nanoparticle (nCeO2) suspensions on freshwater micro-algae. We assessed the effect of nCeO2 suspensions with different agglomeration/aggregation states obtained by using an artificial ageing process. It was shown that the algae growth inhibition was similar after exposure to non-degraded or degraded nCeO2 suspensions. Those results support the fact that aggregation or agglomeration has little influence when focusing on the growth of algal cells. Moreover by comparison to our previous studies performed with other ceria particle suspensions, it was shown that the primary particle size and consequently the particle surface area is a relevant parameter in assessing the ecotoxicity of nanoparticles.
L'utilisation grandissante de produits contenant des nanoparticules peut entraîner une exposition des différents compartiments environnementaux. Par conséquent, l'évaluation des effets pour l'environnement de ces nanoparticules apparaît indispensable. La spécificité et la réactivité importante de ce type de composés conduit également à s'interroger sur leur comportement lors d'un relargage éventuel dans l'environnement. Cet aspect, bien que rarement renseigné, se révèle fondamental pour mieux appréhender l'écotoxicité de ces nanoparticules au cours de leur cycle de vie, incluant les formes altérées, potentiellement agrégées et/ou agglomérées. Ces questions ont été récemment abordées . Dans ce cadre, l'étude d'une suspension de nanoparticules de dioxyde de cérium (CeO2 ; taille primaire = 8 nm) possédant un coating organique a été réalisée. Cette suspension est commercialisée en tant qu'agent protecteur (anti-rayure anti-UV) à destination des peintures extérieures. Le comportement dans l'eau de cette suspension de nanoparticules avant et après un processus artificiel de vieillissement ainsi que les effets sur les producteurs primaires ont été étudiés.
Fichier principal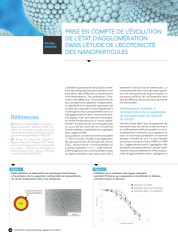 2014-461.pdf (178.98 Ko)
Télécharger le fichier
Origin : Publication funded by an institution