Évaluation de l'exposition des femmes enceintes françaises aux phtalates
The ubiquitous use of phthalate esters in plastics, building materials, medical devices, personal care products and food packaging materials results in widespread general population exposure. This study reports measurements of urinary concentration of phthalate metabolites in France and provides the first exposure assessment of French pregnant women to these compounds. For most of the phthalate metabolites, concentrations measured in urine were similar to those reported in previous studies except for two phthalates: High levels of DiNP (Di-iso-nonylphthalate) and DEHP (Di (2-ethylhexyl) phthalate) metabolites compared to other European and American studies were observed. In a second part of the study, a pharmacokinetic model was used in order to better understand the exposure to DEHP. A high concentration of the primary metabolite of DEHP was identified in this case, with a suspicion of very recent exposure in hospital due to perfusion materials. The pharmacokinetic modelling highlighted the importance of information availability about the time between exposure and biomonitoring measurements for non-persistent pollutants.
Les phtalates constituent une famille de composés chimiques couramment utilisés comme plastifi ants. Ils servent notamment à en assouplir certains comme le polychlorure de vinyle (PVC). Les cosmétiques sont le deuxième domaine d'application des phtalates où ils sont incorporés le plus souvent comme agents fi xateurs. Les phtalates se retrouvent ainsi dans de très nombreux produits de la vie courante, tels que les emballages alimentaires, les parfums, les médicaments, les matériaux de construction, les peintures, les jouets pour enfants et même certains dispositifs médicaux. Lorsqu'ils ne font pas partie directement de la composition des produits, ces composés ne sont pas chimiquement liés aux plastiques dans lesquels ils sont employés et peuvent être relargués directement par simple migration. Les sources d'exposition aux phtalates sont ainsi très variées. Plusieurs études ont montré que ces molécules ont des effets sur la reproduction et sur le développement chez l'animal et sont suspectées d'être des perturbateurs endocriniens chez l'homme. Les phtalates font ainsi partie des substances préoccupantes et prioritaires étudiées dans le cadre de la cohorte Elfe. C'est la première étude longitudinale française consacrée au suivi des enfants, de la naissance à l'âge adulte, qui aborde les multiples aspects de la vie de l'enfant sous l'angle des sciences sociales, de la santé et de la santé-environnement. Après une phase pilote lancée en 2007, elle est généralisée en France métropolitaine depuis avril 2011 et concerne plus de 18 000 enfants. Les résultats issus de l'étude pilote permettent une première évaluation de l'exposition des femmes enceintes aux phtalates.
Fichier principal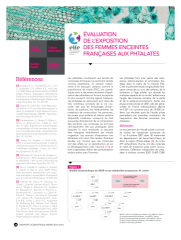 2014-463.pdf (412.67 Ko)
Télécharger le fichier
Origin : Publication funded by an institution