Effets du bisphénol a sur les écosystèmes aquatiques évalués en mésocosme
Bisphenol A (BPA) is commonly used by manufacturers and can be found in many aquatic ecosystems. Data relative to BPA ecotoxicity are only available for studies in laboratory conditions on macro-invertebrates and fish. There is thus a lack of information for other trophic levels such as macrophytes. Moreover, the impacts of BPA within an ecosystem context, i. e. with populations from different trophic levels studied at long term in environmental conditions, have never been assessed. We carried out a long-term lotic mesocosm study in 20 m long channels under three exposure concentrations of BPA (nominal concentrations of 0, 1, 10 and 100 μg/L) delivered continuously for 165 days. Three trophic levels were followed: macrophytes, macro-invertebrates (with a focus on Radix balthica) and fish (Gasterosteus aculeatus). Significant effects were shown at 100 μg/L BPA on the three trophic levels. BPA had a direct impact on macrophyte community structure, direct and indirect impacts on macroinvertebrates and on fish population structure. Gonad morphology of fish was affected at 1 and 10 μg/L of BPA, respectively for female and male sticklebacks. In addition to these ecotoxicity data, our results suggest that fish are good integrators of the responses of other communities (including macro-invertebrates and macrophytes) in mesocosm systems.
Le bisphénol A (BPA ; 4,4'-dihydroxy-2,2-diphénylpropane) est une substance chimique de synthèse utilisée depuis plus de 50 ans. Un très grand nombre d'usages, d'articles et de préparations susceptibles de contenir du BPA ont été identifi és récemment. Ses deux principales utilisations sont la fabrication de matières plastiques de type polycarbonate et de résines époxydes. En raison de sa fréquente utilisation, le BPA est retrouvé régulièrement dans les eaux de surface à des concentrations proches du dixième de μg/L mais qui peuvent aller jusqu'à une vingtaine de μg/L. De plus, de nombreuses publications ont mis en évidence la capacité du BPA à perturber le système endocrinien chez différentes espèces animales. Par conséquent, la question d'effets possibles sur les écosystèmes aquatiques se pose. L'évaluation des substances chimiques s'appuie généralement sur la mise en oeuvre de bioessais pour évaluer l'écotoxicité des substances et établir des valeurs seuils de concentration. Ces tests standardisés présentent de nombreux avantages (reproductibilité, fi abilité, rapidité…) mais ont leurs limites : ils sont réalisés en conditions de laboratoire souvent peu représentatives des conditions écologiques (e.g., pas de prise en compte de la compétition pour la nourriture ou la prédation). Les écosystèmes artifi ciels (appelés mésocosmes) permettent d'étudier de manière plus « réaliste », du point de vue écologique, l'impact d'une substance chimique sur un système complexe de communautés d'organismes vivants. Les effets sur le système endocrinien des organismes aquatiques du BPA ont été observés en laboratoire, mais son impact environnemental dans des conditions écologiques réalistes est inconnu. Les effets à long terme du BPA ont donc été étudiés sur les organismes, populations et communautés aquatiques en mésocosmes.
Fichier principal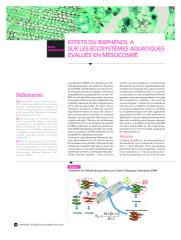 2014-464.pdf (415.08 Ko)
Télécharger le fichier
Origin : Publication funded by an institution