Contamination des poissons d'eau douce par les microplastiques
In recent years an emerging suite of contaminants, plastics, have received increased attention due to the fact that those particles have been detected in marine ecosystems across the world while posing risk to the biota. In contrast to the marine environment, freshwater ecosystems received less attention although the vast majority of plastic is produced onshore and finally is introduced into the marine environment by rivers. Recent scientific evidence confirms that freshwater is also contaminated by microplastics. Based on a novel methodology specifically developed, INERIS' works are the first demonstrating that fish living in rivers ingest microplastics. However, further studies are needed to assess adverse effects associated with this contamination.
En raison de leurs propriétés physiques et de leur faible coût, les plastiques ont envahi depuis maintenant plusieurs années notre quotidien et trouvent désormais leur place dans un nombre très important d'applications. De ce fait, la production mondiale de plastiques a augmenté, passant de 1,5 million de tonnes en 1950 à 288 millions de tonnes en 2012 et, avec elle, la contamination de l'environnement par les matières plastiques tant sous forme de macro que de micro-déchets. Cette contamination de l'environnement et celle des espèces sauvages est très largement décrite en milieu marin où elle fait d'ailleurs l'objet d'une surveillance spécifique. A contrario, peu de données existent sur la contamination des écosystèmes dulçaquicoles par les déchets plastiques et en particulier les microplastiques dont la taille est inférieure à 5 mm. De récents travaux ont mis en évidence, de par le monde, la contamination de certains plans d'eau par les microplastiques, posant alors la question du transfert vers les organismes aquatiques et des effets associés. C'est dans ce contexte que s'inscrivent les travaux menés par l'INERIS sur cette thématique et qui utilisent le goujon, poisson très répandu dans les cours d'eau européens, comme sentinelle de cette nouvelle contamination.
Fichier principal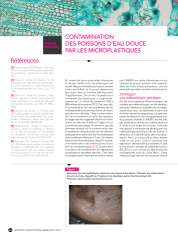 2014-465.pdf (161.4 Ko)
Télécharger le fichier
Origin : Publication funded by an institution