Développement de modèles QSPR validés pour la prédiction de la stabilité thermique des peroxydes organiques
Organic peroxides are unstable chemicals which can easily decompose and may lead to explosion. Such a process can be characterized by physico-chemical parameters such as heat and temperature of decomposition, whose determination is crucial to manage related hazards. These thermal stability properties are also required within many regulatory frameworks related to chemicals in order to assess their hazardous properties. In this work, performed in the PREDIMOL project, new quantitative structure-property relationship (QSPR) models were developed to predict accurately the thermal stability of organic peroxides from their molecular structure only in compliance with the OECD guidelines for regulatory acceptability of QSPRs. Based on the acquisition of 38 reference experimental data using differential scanning calorimetry apparatus in homogenous experimental conditions, multi-linear models were derived for the prediction of the decomposition heat and of the onset temperature using different types of molecular descriptors. Being rigorously validated, models presented the best performances in terms of fitting, robustness and predictive power and the descriptors used in these models were linked to the peroxide bond whose breaking represents the main decomposition mechanism of organic peroxides. These models will be available soon in a QSAR toolbox for REACH application files to supplement physical trials.
Le règlement européen REACH encourage le développement de méthodes alternatives à l'expérimentation animale. Dans ce contexte, l'INERIS a coordonné le projet de recherche PREDIMOL. Conduit entre 2010 et 2014, il visait à montrer que la modélisation moléculaire (en particulier, les Relations quantitatives structure-propriétés (QSPR) et les méthodes de simulation moléculaire [Dynamique moléculaire, méthodes de Monte-Carlo]) étaient une alternative aux essais expérimentaux pour évaluer des propriétés physico-chimiques dangereuses comme l'inflammabilité et l'explosibilité des amines et des peroxydes organiques. Après avoir développé des modèles QSPR fiables pour prédire la chaleur de décomposition de composés nitrés, l'INERIS s'est intéressé à ces propriétés pour les peroxydes organiques et à la mise en place de modèles QSPR. Ces méthodes consistent à relier de manière quantitative une propriété expérimentale à la structure moléculaire d'une substance, décrite par des descripteurs moléculaires. Deux modèles QSPR sur la stabilité thermique des peroxydes organiques avaient déjà été élaborés (chaleur et température de décomposition), en tenant compte des mécanismes réactionnels impliqués. Développés selon une méthode robuste, ils répondent à des critères de validation définis par l'Organisation de coopération et de développement économiques (OCDE) autorisant leur utilisation dans un contexte réglementaire tel que celui de REACH.
Fichier principal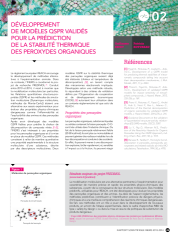 2014-467.pdf (224.39 Ko)
Télécharger le fichier
Origin : Publication funded by an institution