Protéger les infrastructures de transport contre les accidents majeurs
Users of transport infrastructures nearby hazardous plants may represent important populations potentially impacted by a major accident. The Toulouse catastrophe in 2011 has been an illustrative example as it strongly impacted highway users. Therefore, transport infrastructure users (road and railway users mainly) represent a population to be protected within a land use planning policy as it is the case for inhabitants. Accordingly, this paper presents a decision support approach aiming to help local stakeholders identify the most cost effective measures to protect transport infrastructures from major accidental consequences. The suggested approach takes into account both technical and participatory constraints with the aim of offering an equal chance to all involved stakeholders to understand the issues under discussion and formulate opinions and values.
Les Plans de prévention des risques technologiques (PPRT) ont depuis leur instauration en 2003 profondément modifié le paysage de la gestion des risques industriels majeurs en France. Si les impacts sur les riverains industriels et résidentiels ont été largement discutés et médiatisés, le cas des infrastructures de transport l'a été moins et pourtant les enjeux sont importants. Une voie ferrée ou une autoroute à forts trafics peuvent exposer plusieurs centaines d'usagers faiblement protégés ; le cas le plus critique étant l'occurrence de l'accident durant la période de saturation (embouteillages, arrêt du train etc). De plus, ces infrastructures peuvent s'avérer très coûteuses à protéger ou à dévier (de 25 000 à 300 000 euros par mètre linéaire selon les spécificités de construction). Enfin, selon leur importance et la complexité de leur gestion, chacune de ces infrastructures peut être au centre d'un large réseau d'acteurs économiques, sociaux et territoriaux. Pour apporter des réponses à la hauteur des défis techniques et sociétaux requis par la protection des usagers des infrastructures de transport dans le cadre des PPRT, l'INERIS a développé une démarche d'aide à la décision permettant d'évaluer différentes alternatives de protection disponibles. En plus d'un guide technique, cette approche suggère aussi un cadre participatif permettant aux différentes parties prenantes d'être associées à la prise de décision. Basée sur les apports des sciences de la décision d'une part, et des techniques de protection des infrastructures d'autre part, l'approche de l'INERIS se base sur quatre étapes.
Fichier principal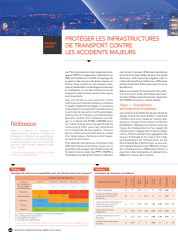 2014-470.pdf (147.11 Ko)
Télécharger le fichier
Origin : Publication funded by an institution