De nouveaux modèles pour appréhender la construction de la sécurité industrielle
The article revisits two very popular safety models to show that it might be time, after several decades, to review their value for the field. Indeed, many of the influential safety models are the product of the 80's and 90's: two major models by James Reason and Jens Rasmussen spring to mind. The former has been known for his 'Swiss cheese model' and the latter for his 'Migration model' and 'Sociotechnical view'. This paper very briefly introduces the basics of these safety models in order to identify some of their strengths but also weaknesses in relation to evolution in research and also evolutions in the operating constraints of high risk systems. Indeed, over the past 20 years, on the one hand, a number of works in the social sciences have provided analytical insights which need to be acknowledged, while, on the other hand, the world has gone through an intensified stage of globalization which created a new environment shaping the configurations of high risk systems. The paper concludes with an alternative graphical representation of the sociotechnical view in order to stress key features such as circular causalities, polycentrism as well as the importance of materializing the multitude of expertise embodied in individuals interacting with each other and their material environment.
La sécurité industrielle comme thématique spécifique de recherche pour les sciences humaines et sociales (SHS) prend appui sur des travaux fondateurs et innovants élaborés dans les années 1980 et 1990. Certaines de ces innovations ont été particulièrement graphiques. Dans ce domaine, les « safety models » ou « accident models » chez les Anglo-Saxons mobilisent de nombreuses analogies ou métaphores. Les modèles de James Reason (1997) ou Jens Rasmussen (1997) en sont de très bons exemples qui servent toujours de références. Le premier représente la sécurité (ou l'accident) comme la trajectoire d'une flèche dans une série de plan représentant des barrières de défense prévues en conception et exploitation. Les trous dans ces plans symbolisent des vulnérabilités dans ces barrières. L'alignement des trous explique la survenue d'un accident Figure 1. Ce modèle a évolué au cours des années et est maintenant popularisé sous le nom du « modèle du fromage suisse ». Le second conceptualise la problématique de la sécurité industrielle (et des accidents) comme le franchissement de limites de fonctionnement sûr représentées métaphoriquement par une enveloppe.
Fichier principal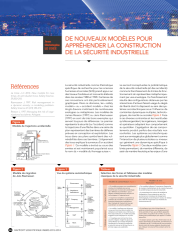 2014-471.pdf (167.25 Ko)
Télécharger le fichier
Origin : Publication funded by an institution