Rôle des effondrements karstiques dans les désordres survenus sur les digues de loire
The Loire Valley is protected from flooding by « levees » (dikes) constituted by sandy clay materials. They are based on alluvium that may overlay a karstifiable limestone bedrock, as in the Val d'Orléans. This 40 km long and up to 7 km wide area is located in the central part of the Loire valley. More than 580 karstic collapses have been recorded here. Some of them have already damaged road infrastructures, houses and dikes. 35 breaches appeared during major floods in the 19 th century, leading to catastrophic floodings. INERIS takes part in a working group devoted to characterization of the karst collapse hazard. Diameter is a relevant criterion for the intensity of this geohazard: most collapses are less than 3 m in diameter but some of them are larger than 10 m. Their probability is not easy to calculate because the date of old collapses is not known precisely. The knowledge of predisposal factors is therefore a best approach: influence of local density of old collapses, thickness and nature of alluvium, distance from the Loire, extremal conditions (frost, snow, heavy rain, flood, low ground water table, etc.). Research is ongoing to characterize the mechanism of karst collapse: roof collapse of a karst void, emptying of a sandy karst cavity, suffosion inside alluvium, etc.
La vallée de la Loire est principalement protégée des crues par des « levées », digues construites avec les matériaux alluviaux sablo-argileux en place. Elles reposent sur quelques mètres d'alluvions qui, sur un linéaire cumulé d'environ 200 km tout au long de la vallée de la Loire, surmontent un substratum calcaire potentiellement karstique. C'est notamment le cas du Val d'Orléans qui se trouve à la confluence entre la Loire et le Loiret. Du fait d'une configuration hydrogéologique spécifique, il existe dans cette zone de nombreux conduits souterrains reliant les pertes de la Loire aux sources du Loiret, distantes d'une quinzaine de kilomètres. Ces conduits karstiques passent donc pour la plupart sous les digues de la Loire.
Fichier principal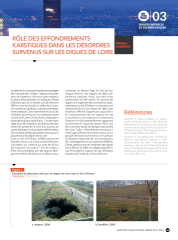 2014-475.pdf (222.81 Ko)
Télécharger le fichier
Origin : Publication funded by an institution