Combustion de saules utilisés en phytoextraction
Phytoextraction may reduce the environmental risk posed by contaminated sediments while simultaneously providing an economic return via bioenergy production. There is a lack of information on the combustion of metal enriched willows used for phytoextraction. This work aimed at determining the Cd phytoextraction efficiency of Salix on a case study in France and assessing the distribution of metals in the emissions and end products of the combustion process. Three willow clones were cultivated in short rotation coppice (SRC) on a metal contaminated dredged sediment landfill site. Combustion assays were performed in a biomass boiler of 40 kW with a Zn and Cd enriched Salix wood 'Tora' harvested from a part of the SRC and a commercial 'Tora', for comparison. In a best-case scenario, phytoextraction could reduce total Cd concentrations of the sediment from 2.39 to 2 mg kg-1 DW in 19 years. Combustion assays showed that Cd and Zn occurred at the highest concentrations in the particulate fraction of the flue gas (flyash), rather than in the bottom ash. This was also observed for Cd in the flue gas of the commercial 'Tora'. Irrespective of the wood provenance, the use of industrial or collective boilers, equipped with efficient filters, is required to minimize air pollution.
La région Nord-Pas-de-Calais est fortement concernée par la problématique des sédiments contaminés notamment par les éléments traces métalliques (ETM). La mise en dépôt, à défaut de filières de valorisation à l'échelle industrielle, est encore le débouché majoritaire. Pour gérer ces pollutions, la phytoextraction, utilisation in situ de plantes pour réduire les concentrations de polluants dans les sols, est une des options possibles. L'étude rapportée ici utilise la combustion de saules, espèce à croissance rapide d'intérêt pour la phytoextraction et pour la valorisation en bois-énergie. La phytoextraction réduirait l'impact environnemental de ces sédiments tout en permettant une valorisation économique de l'espace immobilisé, via la vente de la biomasse produite dans une filière non alimentaire existante.
Fichier principal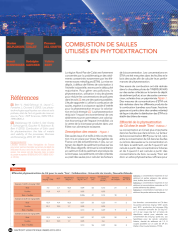 2014-477.pdf (173.84 Ko)
Télécharger le fichier
Origin : Publication funded by an institution