Évaluation des risques sanitaires à l'échelle d'un territoire
In France, regulatory analysis of the environment and potential consequences for human health is implemented for an isolated industrial activity that requests an authorization to operate using the health risk assessment method. Outside the regulatory process, the question is enlarged to the impact of the combination of multiple sources of pollution on the same territory. The main conclusions of the work launched by the French High Council of Public Health focus on four key points: (i) the utility of conducting such an analysis at a territory scale, (ii) the delimitation of the area, (iii) the conditions for the different stakeholders' involvement, and (iv) the methodological specificities of the "zone health risk assessment". INERIS was most specifically involved on the last key point, using the pragmatic approach provided in its guide for conducting a zone assessment. Initial results of a research program aiming at developing and applying integrated exposure tools onto Geographic Information Systems so that future zone assessments can be as close as possible to the reality of cumulative exposure were also used. Indeed, among methodological specificities, cumulative environmental exposure comes first, with the necessity in the near future of developing multidisciplinary approaches that combine different fields of expertise (emissions characterization, dispersion models, "spacetime- activity" behaviors, toxicology and epidemiology) following the exposome concept.
En France, depuis le début des années 2000, la réglementation demande une analyse des effets directs et indirects des Installations classées pour la protection de l'environnement (ICPE) sur la santé des populations riveraines, dans le cadre de l'étude d'impact du dossier de demande d'autorisation d'exploiter. L'INERIS a publié en 2013 un guide décrivant une démarche intégrée combinant l'évaluation des émissions de l'installation, l'évaluation des enjeux et des voies d'exposition, l'évaluation de l'état des milieux, et l'évaluation prospective des risques sanitaires. Cette démarche « monosite » ne considère pas les autres sources d'émissions polluantes présentes aux alentours de l'installation.
Fichier principal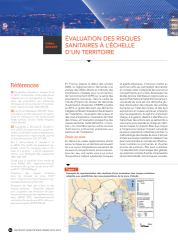 2014-479.pdf (517.99 Ko)
Télécharger le fichier
Origin : Publication funded by an institution