Interaction d'échelles dans les modèles de chimie-transport pour mieux connaître l'impact des grandes villes sur leur environnement
In Chemistry Transport Models (CTMs), spatial scale interactions are often represented through off-line coupling between large and small scale models. However, such nested configurations cannot give account of the impact of the local scale on its surroundings. This issue can be critical in areas exposed to regions with sharp pollutant emission gradients such as megacities. We introduced a new development making use of a horizontal stretched grid, in the Eulerian CTM CHIMERE. This method, referred to as "zooming", consists in the introduction of local zooms in a single chemistry-transport simulation. It allows online bridging of spatial scales from the city to the continental scale. Testing the approach over a continental European domain, zoomed over Benelux, we demonstrate that, compared with one-way nesting, the zooming method allows the representation of a significant feedback of the refined domain towards the large scale showing that this approach constitutes a useful tool to understand the interactions of megacities with their continental environment.
Outre leur impact direct sur la santé de leurs habitants, les mégalopoles contribuent significativement à la pollution de fond influençant des domaines géographiques allant bien au-delà (le continent par exemple). Dans le cadre d'une campagne effectuée au Mexique il a été démontré que dans un rayon de 100 km autour de la ville de Mexico, les concentrations de NO2 et de CO2 proviennent à 50 % des émissions de la ville elle-même. Afin de déterminer si l'on peut s'attendre à des chiffres équivalents en Europe, deux nouvelles fonctionnalités ont été ajoutées au modèle de chimie-transport CHIMERE co-développé par le CNRS et l'INERIS. L'une est dédiée à l'estimation du flux de matière exportée autour d'une zone donnée. L'autre implique une modification du maillage du modèle afin de pouvoir effectuer un zoom sur une région donnée de manière couplée, alors que l'utilisation classique de domaines imbriqués ne permet par de rétroaction de la fine échelle vers le grand domaine.
Fichier principal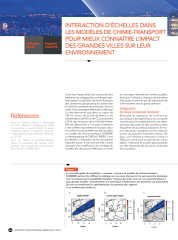 2014-481.pdf (155.64 Ko)
Télécharger le fichier
Origin : Publication funded by an institution