Impact des incendies de forêts russes d'août 2010 sur la qualité de l'air et les propriétés de l'atmosphère
During mid-July to mid-August 2010, the western part of Russia was affected by a strong heatwave episode favourable to the development of numerous wildfires. When analysing the Russian meteorological situation, particularly the time series of temperature we became convinced that the huge PM concentrations were responsible for an attenuation of the maximum temperature in Moscow. The research performed with the LOA (Laboratoire d'Optique Atmosphérique) showed a strong impact of particulate matter concentrations on the meteorology with a reduction of the solar radiations close to the ground and then a stabilization of the atmosphere and lower temperatures. The feedback on meteorology increased the PM concentrations in the low troposphere.
L'impact des feux de forêts et des feux de biomasses de grande échelle sur la qualité de l'air est bien reconnu. Ils constituent une source importante de composés chimiques gazeux et particulaires susceptibles d'affecter non seulement la qualité de l'air mais aussi les propriétés chimiques de l'atmosphère, et donc plus globalement sa température et sa dynamique. Ces polluants sont des gaz à effet de serre (CO2, CH4) mais aussi des oxydes d'azote (NOx), des composés organiques volatils (COV) et surtout des particules (PM). Selon sa composition (qui dépend de la nature des végétaux brûlés, de l'intensité du feu…) le panache issu de ces feux affecte la qualité de l'air dans les territoires environnants et parfois à très grande distance (plusieurs milliers de kilomètres) en élevant les niveaux de pollution particulaire ou en contribuant à la formation de polluants secondaires tels que l'ozone ou certaines particules.
Fichier principal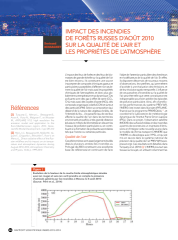 2014-482.pdf (156.5 Ko)
Télécharger le fichier
Origin : Publication funded by an institution