Effets thermiques locaux potentialisés par les ondes radiofréquences
In this study, variations in skin micro blood flow and skin temperature were simultaneously recorded in 21 adults with a thermostatic laser Doppler system during radiofrequency (RF) and "sham" mobile phone exposure for 20 minutes. On the control side of the face (non exposed side), the sham and radiofrequency exposure sessions gave rise to similar response profiles for the mean skin blood flow and mean skin temperature values. During radiofrequency exposure, skin blood flow on the exposed side was greater during radiofrequency exposure than during sham exposure. No difference was observed for skin temperature between RF exposed and sham groups. Heating test: the early peak value for skin blood flow (i.e. the raw data after 1 minute of heating at 44 °C) on the exposed side of face was significantly greater after the radiofrequency exposure session than after the sham exposure session. As positive controls, on the contra lateral (non-exposed) side, no difference was found between radiofrequency and sham exposure sessions. These findings show the existence of a vasodilatory effect on skin perfusion of mobile phone radiofrequency emission, which was not due to a temperature difference.
Quelques études ont montré que la chaleur dégagée par un téléphone portable en fonctionnement produit un échauffement cutané. Monfrecola et al (2003) ont mis en évidence une modification du débit de la microvascularisation cutanée (« flux cutané ») par un téléphone mobile au contact de la joue. Cette étude ne comportant ni groupe témoin, ni contrôle de la température ambiante, cette observation est difficile à interpréter, car la température ambiante peut affecter la température cutanée, et de ce fait le flux cutané. La nouvelle étude vise à vérifier et approfondir ce travail en contrôlant l'ambiance thermique et en disposant d'un groupe contrôle vis-à-vis de l'exposition (« exposition sham ») versus exposition RF réelle (« exposition RF »). Il sera ainsi possible de savoir si les variations de flux observées sont dues à l'échauffement produit par le téléphone, ou si ces effets pourraient être spécifiques des ondes RF. Pour le démontrer, les variations de flux cutané et la température doivent être enregistrées en même temps et au même endroit. Nous avons également étudié la réactivité vasculaire des microvaisseaux cutanés lors de l'utilisation d'un téléphone portable, à l'aide d'un test de provocation thermique.
Fichier principal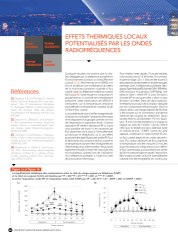 2014-483.pdf (164.93 Ko)
Télécharger le fichier
Origin : Publication funded by an institution