Fuites d'hydrogène sous pression enflammées et non enflammées : concentration, mesure de turbulence et effets de surpression
Safety studies for production and use of hydrogen reveal the importance of accurate prediction of the overpressure effects generated by delayed explosions of accidental high pressure hydrogen releases. Analysis of previous experimental work demonstrates the lack of measurements of turbulent intensities and lengthscales in the flammable envelope as well as the scarceness of accurate experimental data for explosion overpressures and flame speeds. Industry and INERIS join a collaborative project to study un-ignited and ignited high pressure releases of hydrogen. The purpose of this work is to map hydrogen flammable envelopes in terms of concentration, velocity and turbulence, and to characterize the flame behaviour and the associated overpressure.
Les études de sécurité relatives aux sites de production d'hydrogène ou au système pile à combustible hydrogène montrent que dans la plupart des cas l'explosion et plus particulièrement l'explosion à la suite de l'inflammation retardée d'une fuite gazeuse sous pression donne les distances d'effet maximales. L'évaluation des conséquences de ce type d'explosion nécessite des modèles précis et validés. De nombreux travaux se sont intéressés à l'explosion d'un jet gazeux turbulent à la suite d'une inflammation retardée. Ils se focalisent principalement sur les mesures de concentration et la dépendance des effets de pression à la position du point d'inflammation. Cependant, aucun d'entre eux n'apporte de données expérimentales précises quant à la mesure de turbulence dans le nuage inflammable. En effet, l'intensité de turbulence et la taille des structures tourbillonnaires déterminent la vitesse de flamme et par conséquent les surpressions d'explosion. Pour combler ce manque, l'INERIS et deux industriels se sont associés dans le cadre d'un projet de recherche partenariale pour étudier expérimentalement les fuites d'hydrogène sous pression non enflammées et enflammées.
Fichier principal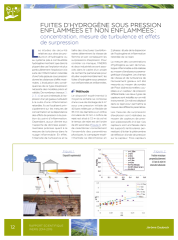 2015-390.pdf (188.68 Ko)
Télécharger le fichier
Origin : Publication funded by an institution