Procédés de méthanisation et gestion des risques industriels : retour d'expérience en France et en Allemagne
One of INERIS' important commitment deals with the assistance provided to the biogas sector in their efforts to identify, assess and put potential accidental risks under control and to mitigate environmental impacts associated with these facilities. In recent past INERIS conducted a study, on behalf of the French Ministry the Environment, to identify biogas incidents typology from incidents/accidents records at disposal in France and Germany. A large number of incidents and several accidents in the agricultural sector with biogas plants were found in Germany, but most often the root reason and the sequences of the events characterising the scenarii were mostly missing in publicly available information. The main hazards to consider are respectively fires, explosions and unexpected toxic gas release (e.g. H2S). In order to prevent accidental risks, a systematic risk assessment carried out under the leadership of the operator, accompanied by a competent body is highly desirable, to go towards inherently safer biogas units and ensure appropriate protection against fires, explosions and against the toxic threat.
Dans le cadre des travaux d'appuis menés pour le compte du ministère chargé de l'Écologie [1], l'INERIS a réalisé en 2012 une étude sur le retour d'expérience (REX) relatif à la filière méthanisation en France (200 installations en 2011) et en Allemagne (7 200 installations en 2011). Le REX étudié a permis de recenser les scénarios accidentels de référence à prendre en compte : n renforcer la sécurité de la filière de méthanisation française en développement afin d'assurer sa pérennité ; n mutualiser les bonnes pratiques en termes de gestion des risques recensées chez les acteurs de la filière méthanisation (constructeurs, porteurs de projets, associations professionnelles, exploitants, experts, assureurs…).
Fichier principal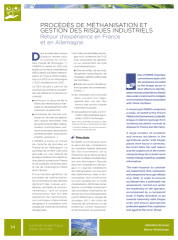 2015-391.pdf (145.85 Ko)
Télécharger le fichier
Origin : Publication funded by an institution