Vers un premier état des lieux des problématiques de corrosion dans les bioraffineries avancées : premiers résultats du projet ECORBIO
This paper deals with major findings obtained to date, from the ECORBIO project carried out under the leadership of INERIS with 5 other partners (academic, technical, industrial). The project was targeting the assessment of potential corrosion issues emerging in advanced biorefining. Various analytical and experimental methodologies were supporting the work. On focus was: a) the assessment of research effort already performed in the field from bibliometric analysis ; b) the evaluation of the performance of the so-called C1 test protocol which is the mandatory tool for qualifying "corrosive to metals" substances according to GHS and relating CLP Regulation applicable in the EU ; c) the development and use of a on purpose built accelerated corrosion test rigs for accessing reliable and usable information in a screening process for evaluation the corrosive behavior of ionic liquids with and without interaction of water as well as organic acids of importance in biorefining. Final results will be presented at the CORABIO 2016 international workshop to be held next March in Compiègne as a satellite event of CABIOMASS 2016 organized by UTC.
Dans le cadre de l'appel d'offres de projets de recherches structurants émis en 2012 par le Conseil régional de Picardie, la proposition dénommée ECORBIO1 a été retenue pour un soutien financier par la région et par les fonds européens FEDER (financement de deux post-doctorants). Ce projet a fédéré l'action d'un consortium constitué de six partenaires comprenant l'INERIS (coordinateur du projet), l'université de technologie de Compiègne (UTC), l'université Picardie Jules-Verne (UPJV); le LEREM, le CETIM et MAGUIN SAS. Sa vocation était d'établir un premier état des lieux des problématiques sectorielles de corrosion et d'apporter une contribution à la progression des connaissances dans ce domaine.
Fichier principal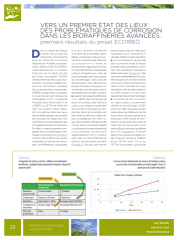 2015-395.pdf (186.62 Ko)
Télécharger le fichier
Origin : Publication funded by an institution