Étude du comportement d'un revêtement nanostructuré soumis à des sollicitations climatiques et mécaniques
In the present work, we investigate the effect of weathering duration on a commercial photocatalytic nanocoating on the basis of its nanoparticle emission tendency into two media, air and water. It is found that increased weathering duration results in stepwise structural deterioration of the nanocoating, which in turn decreases the nanocoating life, changes the nanocoating removal mechanism, and increases the particle emission concentration. Emission of free TiO2 nanoparticles is found to be weathering duration dependent. Three quantities are introduced: emission transition pace (ETP), stable emission level (SEL), and stable emission duration (SED). By linear extrapolation of these quantities from short weathering durations, complete failure of the nanocoatings can be predicted and, moreover, the potential increase of nanoparticles release into the air.
Des revêtements photocatalytiques contenant des nanoparticules de dioxyde de titane sont de plus en plus appliqués à l'extérieur des bâtiments du fait de leurs propriétés antibactériennes et autonettoyantes. Lors de leur phase d'usage, les surfaces traitées sont exposées au vieillissement climatique ainsi qu'à des sollicitations mécaniques, pouvant entraîner la détérioration des revêtements et le relargage de nanoparticules dans l'environnement. Diverses études ont permis de constater que certains types de nanoparticules de dioxyde de titane provoquent des effets préjudiciables sur l'homme et certains animaux. L'étude rapportée ici a eu pour objectif de soumettre un revêtement photocatalytique à un vieillissement climatique et à de l'abrasion, cela pour évaluer et prévoir les émissions potentielles dans l'eau et l'air pendant la phase d'usage.
Fichier principal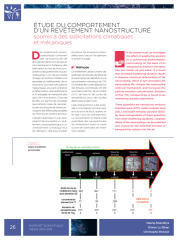 2015-396.pdf (227.97 Ko)
Télécharger le fichier
Origin : Publication funded by an institution