Effets d'une exposition chronique aux ondes radiofréquences sur la préférence thermique
People living near mobile phone base stations may reports leep disturbances and discomfort. Using a rat model, we looked whether sleep disturbances might result from the disturbance of thermoregulatory processes by RF-EMF. We recorded thermal preference and sleep stage distribution in 18 young male Wistar rats. Animals (9 exposed ; 9 control) were exposed to low-intensity RF-EMF (900 MHz, 1 V.m-1) during 5 weeks. Thermal preference was assessed in an experimental chamber comprising 3 interconnected compartments, in which the air temperatures (Ta) were set to 24 °C, 28 °C and 31 °C. Sleep and tail skin temperature were also recorded. Our results indicated that relative to control group, during the light period, the exposed group preferred to sleep at Ta = 31 °C and the controls preferred Ta = 28 °C. The mean sleep duration in exposed group was significantly greater (by 15.5 %) than in control group and the frequency of slow wave sleep was greater in exposed group (by 4.9 episodes.h-1). The paradoxical sleep did not differ significantly between the two groups. During the dark period, there were no significant intergroup differences. RF-EMF exposure induced a shift in thermal preference towards higher temperatures.
L'objectif de ce travail, effectué dans le cadre de l'unité mixte Péritox avec l'université de Picardie Jules-Verne, était l'étude de la préférence thermique (thermopreferendum) de rats exposés aux ondes radiofréquences (RF). Pour cela, le choix entre 3 enceintes à des températures respectives de 24 °C, 28 °C et 31 °C était proposé aux animaux, et leur répartition dans ces 3 enceintes étudiée. En parallèle ont été étudiés le sommeil et la température cutanée caudale. L'expérimentation a été effectuée sur des rats Wistar âgés de 3 semaines au début de l'exposition. Les comparaisons ont été effectuées entre deux groupes de 9 animaux, l'un exposé aux ondes RF et l'autre non (groupe contrôle).
Fichier principal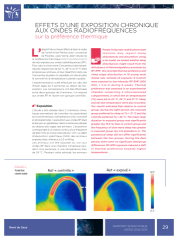 2015-398.pdf (211.98 Ko)
Télécharger le fichier
Origin : Publication funded by an institution