Modélisation du panache odorant de Lubrizol
On 21-22 January 2013, an odour of natural gas was smelled by many people in the region extending from Paris to London. Quick investigations showed that a significant release of sulphur compounds in the Lubrizol industrial facility, located in the city of Rouen, was responsible of numerous complaints for uncomfortable odours. These complaints, including spatial and temporal information were collected by the French institute for public health surveillance and a regional air quality association (Air Normand). INERIS was asked by the French Ministry in charge of Ecology to model the temporal evolution of the plume. After reconstruction of the source term, dispersions modelling were carried out on both regional and local scales. The CHIMERE air quality model was driven by Météo-France model for the regional scale. Simulations at local scale were conducted by using Micro Swift SPRAY model fed by both AROME fields and observations. At regional scale, modelling results show that the odorant part of the plume is well consistent with the occurrence of complaints. At local scale, using the same set of meteorological input data, correlation between simulations and complaints is slightly lower. Ground meteorological observations used as input data for the local scale modelling give better agreement with the complaints.
Le 21 janvier 2013 sur le site de Lubrizol de Rouen, une instabilité des produits contenus dans le bac d'ajustage final de la fabrication du di-alkyl dithiophosphate de zinc (ZDDP) est constatée. Des rejets de composés soufrés ont été émis à l'atmosphère dans des proportions entraînant des nuisances olfactives. Des plaintes de riverains invoquant de mauvaises odeurs, des maux de tête ou des nausées ont ainsi été recueillies par les centres antipoison et de toxicovigilance (CAPTV) et Air normand entre le 21 et le 22 janvier. Le panache a aussi été détecté à Paris dans la nuit du 21 au 22 janvier ainsi qu'au sud de Londres le 22 janvier dans la matinée. L'INERIS, dans le cadre d'un appui technique au ministère chargé de l'écologie, a été chargé de reconstruire l'évolution temporelle du panache issu du site durant les 24 à 48 premières heures de l'accident, à partir des données disponibles sur les conditions météorologiques et le terme source.
Fichier principal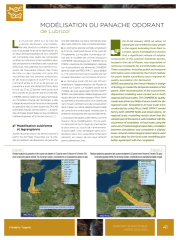 2015-403.pdf (161.19 Ko)
Télécharger le fichier
Origin : Publication funded by an institution