Évaluation des risques environnementaux de déchiquetats de pneus dans des structures de génie civil
The paper addresses different facets of the impact on the environment of tire shreds mixed with limestone sand. Pollution of water, impact on living species and risks associated with fire are considered. The risk of propagation of fire to the whole structure is limited to the first 5 cm layer. The tire-sand mixture and its fire residue are then evaluated for the risk of water pollution. The compounds release is evaluated thanks to three different tests (batch leaching test, column test, and lysimeter). The collected liquids are analysed considering more than 200 parameters, including concentration in metals and concentration in organic compounds (PAH, phenols, TPH…). Their toxicity is measured on two aquatic species: a bacteria and a small shellfish. The measurements are discussed and compared with previously published data as well as with the French regulations concerning groundwater water quality and use of tires in civil engineering applications. Finally, the results confirm that this application is not critical to the environment, with exception of fire residues, which are hazardous waste (due to soluble zinc content) and must be stabilised before landfilling.
Les pneus peuvent être utilisés en génie civil comme matériau de constitution d'ouvrages en conférant à ces derniers, une certaine élasticité. Le projet ANR REMPARE a testé la construction d'ouvrages de protection des routes et voies ferrées, dits « merlons », contre la chute de blocs en montagne. La partie centrale de l'ouvrage est constituée de gabions remplis d'un mélange de calcaire broyé et de pneus broyés. Le comportement au feu et l'impact environnemental des pneus déchiquetés (30 %) et du calcaire broyé (70 %) ont été évalués par un essai de combustion, des analyses en contenu total et des essais de lixiviation, de percolation, et durant une année, un suivi en lysimètres sur la plateforme Ardevie de l'INERIS. Les éluats collectés ont été analysés (plus de 200 paramètres physico-chimiques) et leur écotoxicité mesurée sur une bactérie et un micro-crustacé. Des lixiviations ont été réalisées sur le résidu d'incendie.
Fichier principal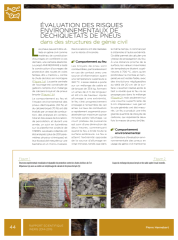 2015-405.pdf (181.99 Ko)
Télécharger le fichier
Origin : Publication funded by an institution