Compréhension des sources et des processus de formation de la pollution particulaire dans l'air ambiant
Atmospheric pollutants in urban areas are complex by virtue of their chemical composition and the multitude of emission sources. Nowadays, they represent various scientific, sanitary, political and societal challenges. INERIS is strongly involved in experimental research activities focused on these issues. Through the set-up of a new research observation platform in the region of Paris, the main objective of this work is to identify and comprehensively characterize processes and sources favoring aerosol pollution formation, using advanced and robust realtime analyzers (such as the Aerosol Chemical Speciation Monitor). In collaboration with LCSE, a unique dataset has been acquired at SIRTA since June 2011. Various statistical analyses already allowed for the refined assessment of the synergy between sources, chemical composition and geographical origins in the region of Paris. These dataset is available to better constrain chemical transport models. Moreover the technical expertise developed here recently allowed for the implementation of ACSM within regional air quality monitoring networks, as well as the build-up of the European calibration centre for on-line aerosol chemical monitors.
Les particules en suspension (ou aérosols) représentent aujourd'hui la classe de polluants atmosphériques la plus préoccupante en matière de santé publique et d'impact environnemental. De par la multiplicité de leurs sources d'émissions et de leurs processus de formation, ces particules ont une composition chimique complexe encore mal connue. Par ailleurs, une meilleure maîtrise de leurs sources anthropiques est devenue un enjeu majeur de la surveillance de la qualité de l'air en Europe du fait du non-respect des valeurs limites fixées par la Directive 2008/50/CE dans nombreux États membres (dont la France) et de l'obligation qui leur est faite d'expliquer l'origine des dépassements de ces valeurs limites. En amont de ses missions d'appui au sein du Laboratoire central de surveillance de la qualité de l'air pour le ministère chargé de l'Écologie, l'INERIS développe depuis plusieurs années des travaux de recherche expérimentale sur ces thématiques.
Fichier principal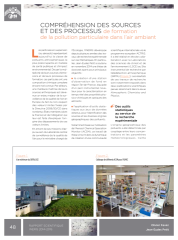 2015-406.pdf (155.16 Ko)
Télécharger le fichier
Origin : Publication funded by an institution