Évaluation de modèles (Q)SAR pour la prédiction de la génotoxicité d'ames : un exercice rétrospectif sur les substances chimiques enregistrées dans le cadre du règlement européen REACH
Notwithstanding the possibility of adopting (Q)SAR predictions for registration purposes, registrants providing information for the first REACH deadline (November 30, 2010) submitted (Q)SAR predictions only in an exceedingly small number of cases [3]. This observation prompted the interest of the project CALEIDOS that decided to provide a retrospective exercise on the reliability of freely available (Q)SAR models predicting Ames mutagenicity when applied to chemicals registered for this first deadline [8]. Our analysis showed that, with the only exception of one (Q)SAR tool (TEST), all the analyzed models were characterized by accuracies that were comparable to the experimental reliability of the Ames test. The best performance was displayed by the Benigni- Bossa rule-based system as implemented within the online VEGA platform (accuracy = 92 %, sensitivity = 83 %, specificity = 93 %, Matthews correlation coefficient = 0.68). The main conclusion is that our results support the accumulating evidence that the mechanistic relationship between electrophilicity and mutagenicity is properly described by existing (Q)SAR models.
Certaines substances chimiques peuvent introduire des mutations dans le génome humain et provoquer des effets graves sur la santé tels que le cancer. Pour ces raisons, la détection du potentiel mutagène des substances chimiques revêt une importance fondamentale dans le cadre du règlement européen REACH sur la toxicité des substances chimiques. Une des approches les plus utilisées pour l'identification de substances mutagènes est le test d'Ames. Il permet d'évaluer les effets des substances chimiques sur l'expression des gènes pour la synthèse de l'histidine de plusieurs souches bactériennes de S. typhimurium et E. coli. Le règlement REACH prévoit la possibilité d'utiliser les prédictions élaborées par des modèles (Q)SAR1 afin de caractériser le potentiel de mutagénèse des substances chimiques. Cependant, et malgré la disponibilité de plusieurs outils (Q)SAR gratuits, les modèles (Q)SAR qui prédisent les effets de mutagénèse n'ont été utilisés que de façon exceptionnelle pour l'échéance du 30 novembre 2010 du règlement REACH. L'objectif de ce travail était donc d'évaluer la performance prédictive des outils (Q)SAR mis à disposition gratuitement sur internet, avec les substances qui ont été enregistrées pour cette échéance.
Fichier principal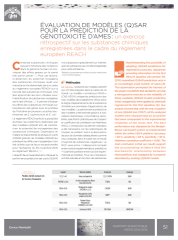 2015-408.pdf (153.86 Ko)
Télécharger le fichier
Origin : Publication funded by an institution