Fin de vie des nanomatériaux par incinération : cas des nanocomposites
Nanocomposites have been widely studied and produced since the end of the nineties. These trendy materials containing nanomaterials are expected to end up in incineration waste plants due to the lack of specific recovery procedures. The aim of this work is to investigate the behavior and the fate of the nano-objects from nanocomposites during their incineration and to give insights on potential environmental risk related to the incineration of waste containing nanomaterials. Incineration tests have been performed at lab-scale using specific pilots respecting regulatory incineration requirements. The influence of the nano-objects presence on the combustion mechanisms (aerosol release and decomposition) is investigated. The combustion residues and the combustion aerosol (collected downstream the incinerator) have been characterized using various techniques devoted to the analysis of aerosols. Furthermore, it has been studied the influence of different parameters (temperature of combustion, oxygen concentration, loading of nanoobjects, type of nano-objects) on the nature of emissions. Finally, a decision tree has been proposed to decision-makers and incineration plant managers.
Le développement des applications industrielles relatives aux nanotechnologies entraîne un accroissement du nombre et de la variété de déchets contenant des nanomatériaux, déchets qui sont générés par l'industrie, les consommateurs et les laboratoires de R&D. Des familles de matériaux incorporant des nano-objets se développent alors que les travaux sur l'évaluation de l'adéquation des filières de fin de vie (recyclage et élimination) vis-à-vis du risque potentiel lié aux nanomatériaux n'ont été entrepris que récemment.
Fichier principal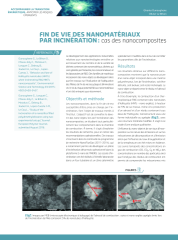 2016-464.pdf (283.71 Ko)
Télécharger le fichier
Origin : Publication funded by an institution