Analyse des coûts et des bénéfices sociaux pour la mobilité hydrogène en europe
The deployment of hydrogen technologies in the energy mix and the use of hydrogen fuel cell vehicles (FCV) are expected to significantly reduce European greenhouse emissions. A social cost-benefit analysis is presented to estimate the period of socioeconomic conversion, period for which the replacement of gasoline internal combustion engine vehicles by FCV becomes socioeconomically profitable. In this study, we considered a hydrogen production mix of five technologies : natural gas reforming processes with or without carbon capture and storage, electrolysis, biogas processes and decentralized production.
Le déploiement des technologies à l'hydrogène dans le mix énergétique et la mobilité hydrogène (e.g. utilisation de véhicules à pile à combustible [VPC]) pourraient permettre de réduire considérablement les émissions à effet de serre au niveau européen. Toutefois, le déploiement de cette filière ne pourra se faire sans un soutien spécifique permettant de satisfaire à la fois les exigences du marché et celles liées au développement des technologies à l'hydrogène, mais permettant également de respecter les contraintes liées au réchauffement climatique et l'épuisement des ressources naturelles.
Fichier principal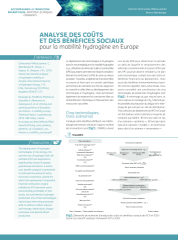 2016-468.pdf (179.98 Ko)
Télécharger le fichier
Origin : Publication funded by an institution