Champs électromagnétiques et hypersensibilité : à la recherche de marqueurs biologiques
The effects of electromagnetic field (EMF) exposure on human health raise a number of questions and became a subject of several laboratory studies. In addition to this concern about the health effects, some individuals suffer from atypical symptoms that they attribute to the effects of exposure to EMF. This syndrome is commonly known as the electrohypersensitivity (EHS) or idiopathic environmental intolerance (IEI) attributed to EMF.
L'utilisation croissante des nouvelles technologies dans le domaine de la télécommunication (hautes fréquences) ou des appareils domestiques (en basses fréquences) est à l'origine d'une augmentation de l'exposition de l'homme aux champs électromagnétiques (CEM). Les effets de ce type d'exposition sur la santé humaine suscitent des questions et font l'objet de plusieurs études en laboratoire. Outre cette inquiétude sur l'effet sanitaire, certains individus souffrent de symptômes atypiques qu'ils attribuent aux effets de l'exposition aux CEM. Ce syndrome est communément appelé l'électrohypersensibilité (EHS) ou l'intolérance environnementale idiopathique (IEI) attribuée aux CEM.
Fichier principal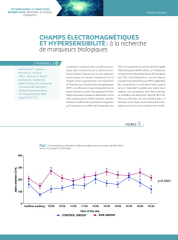 2016-470.pdf (104.77 Ko)
Télécharger le fichier
Origin : Publication funded by an institution