Guide BATIRSÛR : accompagner les entreprises dans la prévention des risques technologiques en zone PPRT
The objective of the project is to help companies to take into account the technological risk prevention plans (PPRT) introduced in France following AZF's accident to manage land‑use planning in the vicinity of upper-tier SEVESO establishments. The project started in 2012 was conducted by INERIS in collaboration with CTICM, INSA Centre Val de Loire, ArcelorMittal, AMARIS, the Ministry of the Environment, Energy and Marine affairs, Bourges Plus Urban Community and Cher County Council. It aimed to improve knowledge and to better understand and predict the structural response of single storey steel framed building to actions caused by explosions. The work involved blast small and middle-scale tests on building and analytical and numerical modelling. It led to develop a guide for practitioners allowing to facilitate the blast design of steel building. It gives a technical and economical solution to make the setting-up of companies around blast technological risk area easier as well as to improve levels of structural safety. The guide is available free of charge on the INERIS and other partners' website.
À la suite de la catastrophe d'AZF, la loi « Risque » n° 2003-699 du 30 juillet 2003 a créé les Plans de préventions des risques technologiques (PPRT). Ces plans visent à améliorer la coexistence des sites industriels à l'origine du risque et les activités économiques, tout en assurant la protection des personnes. Les PPRT peuvent ainsi prévoir des restrictions de l'urbanisation future autour du site industriel, et/ou des travaux de renforcement des bâtiments existants. Les zones soumises à un aléa de surpression de faible intensité (20-50 mbar) représentent de grandes zones constructibles dans lesquelles les bâtiments d'activités économiques en acier sont majoritairement représentés. Toutefois, afin de faciliter leur implantation dans ces zones réglementées, il est nécessaire d'accompagner les entreprises dans les mesures techniques à mettre en oeuvre. Pour répondre à cet enjeu, l'INERIS a initié en 2012 et pour une durée de 3 ans le projet de recherche BATIRSÛR « Bâtiment en acier en zone PPRT de surpression 20-50 mbar » avec le soutien du ministère de l'Environnement, de l'Énergie et de la Mer.
Fichier principal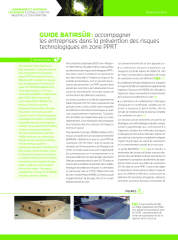 2016-473.pdf (117.58 Ko)
Télécharger le fichier
Origin : Publication funded by an institution