Insertion de l'incertitude pour l'analyse des risques du stockage de CO2
Tatiana Okhulkova completed her PhD on Dec.15th, 2015, after studying the uncertainties in modeling the migration scenarios for CO2 geological storage. Such a storage is envisaged to fight climate change, by injecting CO2 in deep underground formations after capturing it at industrial plants. An important task was to build a metamodel that reproduces the results of the complete numerical model previously developed by INERIS, with a mathematical function that demands much less calculation time (typically, 100 000 runs in a few minutes). Here, the polynomial chaos expansion theory was used. The importance of the different input variables was studied and compared for two risk scenarios: lateral migration of the CO2 plume and overpressure at the caprock. The PhD thesis also considered the influence of heterogeneities. In order to obtain an uncertainty that is similar to the homogeneous case, a 4.5 times higher standard deviation is needed for heterogeneity as input parameter. This shows that the contribution of heterogeneities to the global uncertainty is weaker. This work necessitated to combine the numerical model with a MATLAB routine that generates a 3D heterogeneous domain.
Le stockage du CO2, après sa capture sur les sites industriels émetteurs, est une des voies étudiées pour limiter les émissions anthropiques de CO2 conduisant au réchauffement climatique : il s'agit de la filière CSC (captage et stockage du CO2). L'INERIS a engagé en 2012 une thèse de doctorat [1] dans le cadre de son axe de recherche EVARISTE. Menée par Tatiana Okhulkova et soutenue le 15 décembre 2015 à l'École centrale de Paris, ce doctorat avait pour objet l'étude des incertitudes de la modélisation en milieu souterrain dans le cadre d'une analyse de risques, avec pour cas d'application concret le stockage souterrain de CO2.
Fichier principal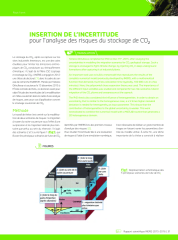 2016-475.pdf (159.18 Ko)
Télécharger le fichier
Origin : Publication funded by an institution