Étude de l'efficacité et de la pérennité de la phytostabilisation aidée couplée à une valorisation biomasse en bois-énergie
The Phytosed 2 project (2011-2014) monitored aided phytostabilization on 1 ha of a metal-contaminated sediment landfill site and gained practical information on its deployment. The experimental design was based on the combined use of a basic mineral amendment and the tufted hair-grass and two willow cultivars. The perennial grass Barcampsia cespitosa was highly relevant as it quickly grew, quite totally covered the sediment, did not show toxicity signs and did not transfer trace elements in its aerial parts. In addition, it participated in the regression of Fallopia japonica, an invasive species present in the site. In our sediment conditions, the amendment did not give the short-term expected effects, i.e. decrease of the metal mobility in the sediment and of the foliar metal concentrations in the plants, although the pH increase was significant. In our study, the use of Tordis and Inger willow clones for biomass production seemed not relevant due to their Zn and Cd accumulator behaviour and low biomass yield. The on-going DEMOPHYTO (2014-2018) project will investigate the questions raised by Phytosed 2.
Dans le cadre de sa politique de développement durable, Voies navigables de France (VNF) privilégie les voies de valorisation des sédiments de dragage. À ce jour, il n'existe pas de filière industrielle pour le traitement et la valorisation des sédiments pollués capable d'absorber l'ensemble du gisement disponible. Le stockage en terrain de dépôt des sédiments pollués demeure la solution principale et économique. L'utilisation de la phytostabilisation, aidée conjointement avec la valorisation de la biomasse produite sur certains sites de dépôt de sédiments pollués comme mode de gestion de ces sites, pourrait permettre le renforcement de la mise en sécurité du site car les voies de transfert seront contrôlées. Elle permettrait aussi de dégager une plus-value sociale et économique via le développement des filières biomasses non alimentaires. Le projet PHYTOSED 2 (2011-2014), co-financé par VNF et l'ADEME, avait pour objectif d'étudier l'efficacité et la pérennité de la phytostabilisation aidée couplée à une valorisation biomasse en bois-énergie à l'échelle d'un hectare d'un site de dépôt de sédiments pollué par les éléments traces.
Fichier principal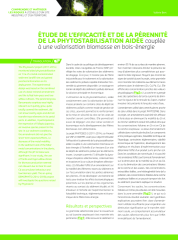 2016-483.pdf (267.87 Ko)
Télécharger le fichier
Origin : Publication funded by an institution