Modélisation intégrée de la perturbation endocrinienne à différents niveaux d'organisation biologique chez le poisson zèbre
The translation of subtle functional deficits within individuals into population-level effects is identified as a main challenge for the hazard and risk assessment of endocrine disruptor compounds (EDCs). Thus, the aim of MOZAIC project was to propose an integrated modelling framework for zebrafish (Danio reiro) to assess impacts of EDCs at different biological levels from the organism to the population. The first phase of the project was focused on the generation of new experimental data to fulfill the lack of knowledge concerning the zebrafish endocrinology and physiology. These original datasets were used to develop a physiologically-based pharmacokinetic (PBPK) for the zebrafish using validated and/or new QSAR/QSPR models to predict some toxicokinetic parameters. The impacts of EDCs on populations was predicted using a population dynamics model for zebrafish developed by coupling a model of individual bioenergetics with an individual-based model. The model was tested to predict the impacts of the ethinylestradiol at the population level conformed to these observed experimentally. The models which remain to be developed are those relating these different biological levels, in particular between hormonal disturbances and individual performances.
Certains composés chimiques dénommés perturbateurs endocriniens (PE) possèdent la capacité de perturber le système endocrinien entraînant des dysfonctionnements de la reproduction et du développement des individus, entre autres. Un enjeu majeur pour l'évaluation des risques écologiques des PE est la traduction des déficits fonctionnels des individus en effets quantifiables au niveau des populations, i.e. un ensemble d'individus d'une même espèce se perpétuant dans un territoire donné et qui est l'unité biologique à protéger. Dans ce contexte, le projet MOZAIC, coordonné par l'INERIS, visait à proposer un ensemble de modèles mathématiques mécanistiques permettant d'évaluer les modifications hormonales dues aux PE et leurs incidences sur les performances des individus et sur la dynamique des populations. L'INERIS s'est intéressé à une espèce modèle le poisson zèbre (Danio rerio) très utilisée en écotoxicologie.
Fichier principal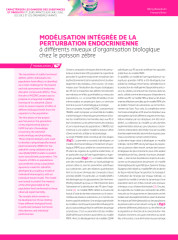 2016-485.pdf (165.48 Ko)
Télécharger le fichier
Origin : Publication funded by an institution