Profilage de la toxicité de nouvelles substances par méthodes alternatives
Toxicology is changing its experimental approaches from animal testing to less expensive, more ethical and relevant methods. Modern toxicology relies on two main components : in vitro testing and in silico analyses. Toxicology has also entered a world of "big data" production, switching from a low-throughput to a high-throughput mode of screening. The DRC/VIVA/ METO unit of INERIS is spearheading the development of the methods and models needed to extrapolate the results of in vitro assays to in vivo human exposures. The key ingredients of our approach are physiological pharmacokinetic (PBPK) models, systems biology models of adverse outcome pathways (AOP) and Bayesian methods for statistical inference and uncertainty reduction. In the framework of large European projects such as PREDICT-IV, COSMOS, StemBANCC, EU-ToxRisk and Euromix, METO actively transfers its results to university and chemical, cosmetic or pharmaceutical industry partners.
Le principal objectif sociétal de la toxicologie est de développer des prévisions fiables de l'impact sur la santé humaine de l'exposition à des produits chimiques, avant même que cette exposition se produise. La détermination expérimentale de la toxicité passe traditionnellement par des essais sur animaux dont les résultats sont ensuite extrapolés empiriquement pour estimer les doses sûres chez l'homme. Cette approche, qui soulève des interrogations éthiques, est également coûteuse : les dépenses annuelles mondiales pour l'expérimentation animale en toxicologie sont estimées à deux milliards d'euros. De plus, les études animales sont trop lentes pour dépister les dizaines de milliers de produits chimiques déjà commercialisés et les nouvelles molécules mises sur le marché chaque année. En outre, la transposition de l'animal à l'homme est très incertaine. Pour résoudre ces problèmes on s'oriente résolument vers le développement de tests in vitro utilisant des cellules humaines. Pour une mise à l'échelle de l'organisme entier des résultats de ces tests, il est également nécessaire de définir des méthodes mathématiques et statistiques adaptées. Les progrès de la biologie moléculaire et cellulaire (sur les cellules-souches), de la bio-informatique, de la biologie des systèmes et de la toxicologie prédictive nous ont fait passer de tests in vivo à faible débit à une approche mécaniste intégrée à haut débit. Le profilage haut débit, robotisé, permet un examen rapide de milliers d'agents simples ou des mélanges complexes par jour. Ce profilage peut permettre la prédiction des effets toxiques chez l'homme à différents stades de la vie et pour différentes conditions physiologiques. L'équipe Modèles pour l'écotoxicologie et la toxicologie (METO) de l'INERIS participe activement, par des partenariats européens, à cette révolution de la toxicologie.
Fichier principal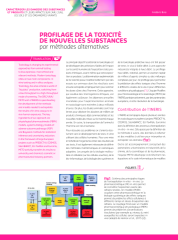 2016-486.pdf (166.98 Ko)
Télécharger le fichier
Origin : Publication funded by an institution